Russian spy: Boris Johnson warns Kremlin over Salisbury incident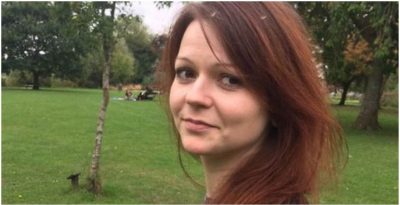 The UK would respond "robustly" to any evidence of Russian involvement in the collapse of former spy Sergei Skripal, Boris Johnson has said.
Mr Skripal, 66, and his daughter Yulia, 33, are critically ill in hospital after being found unconscious in Salisbury, Wiltshire.
The foreign secretary said he was not pointing fingers at this stage, but described Russia as "a malign and disruptive force".
Russia has denied any involvement.
Counter Terrorism Police have taken over the investigation from Wiltshire Police.
But in a statement, the unit said the inquiry had not been declared a terrorist incident and there was no risk to the wider public.
Family deaths
Mr Skripal's relatives have told the BBC Russian Service that the former spy believed the Russian special services might come after him at any time.
His wife, elder brother and his son have died in the past two years, some in mysterious circumstances, the family believe.
Ms Skripal is based in Moscow and has visited her father in the UK regularly, especially over the past two years.
Mr Skripal – a former Russian agent convicted of spying for Britain – and his daughter were found slumped on a bench outside a shopping centre on Sunday afternoon.
Earlier they were seen walking through an alley leading from a Zizzi restaurant, which has now been "secured" by police. The Bishop's Mill pub has also been cordoned off as a precaution.
Scientists at Porton Down – the UK's secret weapons research facility in Wiltshire – are studying the "unknown substance" that is thought to have made the pair ill.
Mr Johnson told MPs: "Honourable members will note the echoes of the death of Alexander Litvinenko in 2006.
"I say to governments around the world that no attempt to take innocent life on UK soil will go unsanctioned or unpunished."
Mr Johnson said that if it emerged Russia was linked to the incident in Salisbury "it would be very difficult to imagine" that UK representation at this summer's football World Cup could go ahead in the "normal way".
Aides to Mr Johnson say he was referring to "officials" – and not the England team.
Mr Johnson said the UK was "in the lead across the world" in trying to counteract a "host of malign activity" by Russia.
In a statement, the Russian embassy in London said: "Media reports create an impression of a planned operation by the Russian special services, which is completely untrue."
Responding to Mr Johnson's comments, the Russian embassy added: "We regret that instead of a proper official clarification on the issue the Foreign Secretary chose to threaten Russia with retribution.
"Looks like the script of yet another anti-Russian campaign has been already written."
Although Boris Johnson was careful to stress this was still an ongoing investigation – it's absolutely clear he, and others in government, believe it's highly likely this was a Russian state-sponsored attack.
The big question now – how does the government respond?
A question made more pressing by accusations that ministers were guilty of appeasement in the wake of Alexander Litvinenko's killing.
Mr Johnson suggested there could be targeted sanctions against those close to President Putin.
And, perhaps most significantly, in an indication the government could seek to rally international support to make a stand against Russia, Mr Johnson said there could be a co-ordinated response with Nato allies.
Whatever measures are eventually decided upon – if Russian involvement is proven – it's clear relations between London and Moscow have plunged to new depths.
Andrei Lugovoi, the former Russian agent accused of poisoning ex-spy Alexander Litvinenko in London in 2006, told the BBC that Russia would have considered the matter closed when Mr Skripal was flown to the UK as part of a spy swap in 2010.
Mr Skripal was pardoned by the Russian President and so the incident was over, Mr Lugovoi said.
Igor Sutyagin, who was one of four agents released by Moscow in the exchange, is now a research fellow at the Royal United Services Institute (RUSI).
He told the BBC's World Tonight programme that he was not yet concerned for his safety and added: "I don't think that he (Mr Skripal) would be targeted, because he was pardoned."
Russia has insisted it has "no information" about what could have led to the incident, but says it is open to co-operating with British police if requested.
Police are currently examining CCTV footage, filmed by a Salisbury gym, showing an unidentified man Boris Johnson warns Russia over spy collapseand woman – thought to be Mr Skripal and his daughter – walking near the location where they were found.
Wiltshire Police has said two officers caught up in the suspected contamination have been treated in hospital for minor symptoms, before they were given the all clear. It is understood their symptoms included itchy eyes and wheezing.
A third member of the emergency services remains in hospital.
In Salisbury, some residents have told the BBC of their surprise at the incident happening in the small city, while others are seemingly unruffled.
"I'm not nervous for my own safety," says Sue Doe, smoking a cigarette a stone's throw from Zizzi's.
"I'm just interested to know what's happened."
Who is Sergei Skripal?
Colonel Skripal, a retired Russian military intelligence officer, was jailed for 13 years by Russia in 2006.
He was convicted of passing the identities of Russian intelligence agents working undercover in Europe to the UK's Secret Intelligence Service, MI6.
In July 2010, he was one of four prisoners released by Moscow in exchange for 10 Russian spies arrested by the FBI as part of a swap. He was later flown to the UK.
According to BBC Newsnight's diplomatic editor Mark Urban, in recent years Col Skripal gave lectures at military academies offering insight into Russia's foreign military intelligence agency, the GRU.
The possibility of an unexplained substance being involved has drawn comparisons with the 2006 poisoning of Alexander Litvinenko.
The Russian dissident and former intelligence officer died in London after drinking tea laced with a radioactive substance.
A public inquiry concluded that his killing had probably been carried out with the approval of the Russian President, Vladimir Putin.
Mr Litvinenko's widow, Marina Litvinenko, told BBC Radio 4's The World Tonight that the latest incident felt like "deja vu" – and called for those receiving political asylum to be protected by the UK.