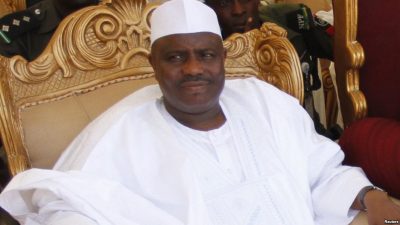 By Lateef Ibrahim, Abuja
Governor of Sokoto State and presidential aspirant of the Peoples Democratic Party, PDP, Hon. Aminu Tambuwal on Thursday promised to restructure Nigeria if elected President in 2019 general election.
Tambuwal said this while unveiling his agenda at a meeting with PDP delegates from the Federal Capital Territory, FCT and the North Central in Abuja to the forthcoming national convention billed for October 6, this year
The Governor and former Speaker of the House of Representatives further promised to evolve scientific measures that would enable the security architecture to meet up the challenges of the 21st century.
He pledged to make the education of the youth a top priority of his government.
Tambuwal reasoned that this will go a l9ng way in creating independent spirit in the youth to pursue develop their potential and in turn become employers of labour.
The restructuring of Nigeria, the governor noted, was paramount to recreate a sense of unity among the people.
He lamented that Nigeria has been divided under the present administration more than ever before.
He charged the delegates to show preference for his candidature.
According to Tambuwal, "We are here to meet our delegates from the North Central and kick start our campaign properly.
"This aspiration is fired and motivated by the spirit of service and the spirit to take back our country and reunite our people. And to reposition our country for it to be properly restructured to the benefit of Nigerians.
"When you give us the flag and eventually elect me as the president of the country, I will rejig the security architecture of Nigeria, employ manpower that has the capacity to address the security challenges of today, using technology.
"A situation whereby we don't employ and deploy technology for the security of Nigeria can no longer be tolerated. Because as a country we have the resources, the manpower, the people and the youth to take these challenges head-on.
"But the question is, why are we not taking the advantage of what God has given us to solve our problems.
"The answer is simply because there is no leadership that has the capacity to harness all of these resources God has given us. I guarantee you by the grace of God that we shall assemble a team of Nigerians from all parts of the federation that are very competent and qualified to do whatever it takes to make sure that Nigeria is very secured.
"Repositioning Nigeria by way of ensuring that all of our children are in schools and get required training so that those that will be employed in blue collar jobs and the others that will go for various private businesses are properly trained".