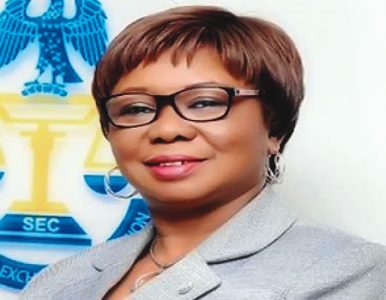 By Etuka Sunday
Acting Director General of the Securities and Exchange Commission, SEC, Ms. Mary Uduk has assured investors in the Capital Market that there is nothing to fear on the performance of the market as the 2019 election approaches.
Uduk spoke while responding to questions from journalists on the sidelines of the just concluded World Bank/IMF Annual Meetings in Bali, Indonesia.
She said the upcoming election might have made some investors to hold back their investments and sell or adopt a wait and see strategy until after the elections, but added that it is nothing to worry about.
The SEC boss explained that the major contributory factor to the current downward trend of the market is the outflow of foreign investment which has led to sell pressure accumulating into depressed prices. This she said is one of the reasons why the Commission is mapping out strategies to build confidence in the market and encourage more retail investors.
According to her "We understand the importance of foreign investors for market efficiency, liquidity and transparency. However it is also important for us to develop local investors by building their confidence and encouraging their participation.
"We have made a lot of progress in that direction like risk based supervision, zero tolerance to infractions in the market, complaint Management Framework among others. If you don't tolerate infractions, investors will know that somebody is watching their back. We have other initiatives like e-dividend, Direct Cash Settlement which are all geared towards encouraging investors in the Nigerian capital market".
Uduk said the SEC is exploring avenues to deepen the market, through the introduction of different products like derivatives, non interest capital market products and commodities and finalising rules on derivatives as well as have a standing Committee in developing a vibrant Commodity Ecosystem.
She also disclosed that the SEC is embracing technology innovation which is a major theme of this IMF/World Bank meeting.
She said "In terms of what we have done, we are working on automating a number of our operations, we are encouraging those we regulate to embrace technology and have minimum technological standards and encourage new innovators, especially FinTech.
"Fintech companies offering capital market products and improved processes are expected to collaborate with the Commission through some of our existing arrangement like the Regulatory Sandbox that we are currently working towards implementing".
Uduk added that with all these efforts and several others, the Nigerian Capital Market can manage some of these risks, become deeper and realise its potentials.