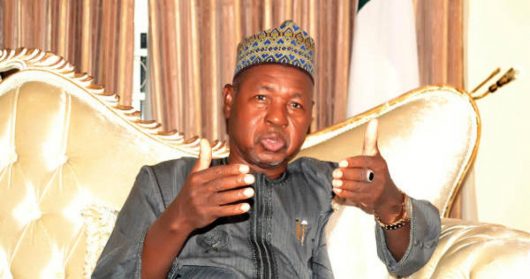 By Ali Alkali
Governor Aminu Bello Masari of Katsina State had described the flagging off of President Muhammadu Buhari's 2019 presidential campaign in South-South last week as "very strategic" as it's a way of showing the opposition how popular Buhari is.
Speaking to political reporters at his official resident on Sunday, Governor Masari said, "If you want to test your popularity, go to a place where you think you are not popular."
Masari, who flagged off his own 2nd term bid campaign on Saturday in Funtua, Katsina State, said "The crowd that President Buhari pulled in Uyo, Akwa Ibom State, showed clearly that he is accepted by Nigerians in every nook and cranny of Nigeria.
"You can see the crowd; and I am sure it sent shivers down the spine of the opposition. People from South-South came from all parts of the zone and filled that stadium, which I think is the biggest stadium in Nigeria. This is a state where we don't control the state government."
Masari added that unlike Peoples Democratic Party (PDP) that rented crowd from Niger Republic when it flagged off its presidential campaign, the All Progressives Congress (APC) is fortunate to have a presidential candidate whose integrity is all the party needs to attract any crowd it wants without renting it.
"Those who said Buhari rented crowd are those who don't know him. This is somebody who never even printed a poster for himself, let alone rent a crowd. Any poster you see of Buhari is provided by somebody else, because when he started politics he had no money to do that; and still, to date, he has no money to do the kind of massive posters needed for presidential campaign. This is a man who is still writing cheques, as president. Yes, he still writes his own cheques. But because of the personal integrity he built, there are always people who are ready to do everything for him."
Governor Masari advised that it is high time all politicians and other leaders leaned leadership values from President Buhari and some past great Nigerians such as Malam Aminu Kano.
"Aminu Kano never had a box of clothes up to the time of his death; but he had the best of everything he needed in life. What do you really need in this life? You only need a place to sleep; if you are sick, hospital; and a food on the table. You really don't need anything more than that. All other things are just wants and vanity – not needs," said Masari.
As governor of the President's state, Katsina, Masari said he regards his deep involvement in the Buhari presidential Campaign not only crucial but personal endeavors for him.
"Fortunately for me, I was Speaker, House of Representatives between 2003 and 2007; and within that period I had opportunity of working with over 360 members of the House; and I visited all their constituencies before the end of our tenure. And even after leaving that office, I maintained good and cordial relationship with almost all of them," said Masari.
Also, when he was Speaker, Masari said he had the opportunity of meeting all traditional rulers in this country, to the extent that many of them gave him traditional titles. He equally interacted closely with religious leaders, civil society organizations and labour leaders with whom he still maintains cordial relationship.
Confidently, he said "So, I can safely say that I have a wide reach within the political and business cycles and religious community that can be of great benefit to the Buhari 2019 campaign."