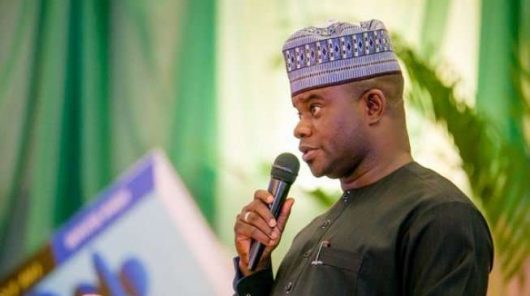 Kogi state governor, Yahaya Bello, returned to power in the election of Nov.16, generally believed to be symbolic, has described the vote as "free and fair". Not at all surprising because he was the sole beneficiary in the violence-marred poll. What we find shocking was his unfeeling reaction to the deaths that resulted from the election, caused, in the main, by members of his All Progressives Congress (APC).
Appearing on a Channels Television breakfast programme "Sunrise Daily", the governor agreed there was violence during the election but said that was not enough to call for its cancellation. The call was made by independent election monitors. But Bello believed "The conduct of the election was quite very credible, a level-playing field was provided and it was free and fair. In every election, there is bound to be one issue or the other and you can't take a pocket of issues to judge the general conduct of the election.
"Regarding the comments of civil society organisations, they are entitled to their own opinion but let us know the parameters with which they are judging this election. How many polling units did they visit out of 2, 548 polling units, 239 wards and 21 local governments across the difficult terrain of this state? How many people have they reached out to?" Have they interviewed all the electorate? What are their yardsticks?"
As we pointed out from the onset, nobody is surprised by Bello's reaction to the sham of an election held in Kogi. As a sole beneficiary, he could not have said anything but what he said. He was not man enough, unlike the late President Umaru Yar' Adua who accepted that the election of 2007 that brought him to power could have been better conducted. On taking office, he immediately set up a presidential committee to clean up the electoral system. Unfortunately, he did not live to see out the expected reform.
Yar' Adua was not a typical Nigerian politician who would welcome a victory, no matter in what manner it comes. It does not matter if it comes dripping blood such as did Bello's Nov. 16 victory. We are shocked that the cry of a dying elderly woman in her burning room did not stir something human in him. The woman, an opposition party leader, was pushed into her own house, allegedly by youth celebrating Bello's victory. They barred all doors and Windows, then set the building ablaze. They watched as the fire consumed the house and its sole occupant.
We wish to repeat our Nov. 19 editorial condemning the conduct of the elections in Kogi and Bayelsa states on Nov. 16. "It is a big shame that elections in Nigeria have been turned into a matter of life and death, not a platform to offer oneself for service to the fatherland. What has just happened in Bayelsa and Kogi casts a pall of doubt over the general elections scheduled for 2023."
We commend President Muhammadu Buhari's unequivocal condemnation of the killing in Kogi. Unlike governor Bello, the president has ordered security forces to fetch out the killers. He asked them to do "a thorough and expeditious job" of the investigation so that justice is served "without fear or favour." He said, "We must learn to behave decently, whether during elections or at other times. No life should be taken wantonly under any guise, and the fact that this reprehensible act occurred two days after voting shows primitive behavior, which should not be accepted in a decent society." This is a decent response to an indecent act. It is up to the central government to disabuse the minds of the public on the allegations of complicity against INEC and Police in aiding electoral fraud and violence. That way, government will wash off its hands from what seems a hand out.