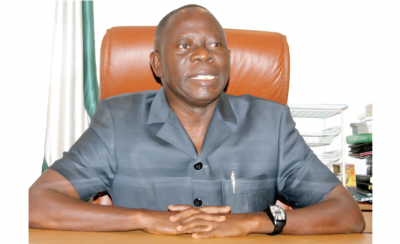 Vows to win Ogun, Imo for APC without them
As Okorocha's son-in-law defects to AA
By Ali Alkali with Agency reports
As war of words between the National Chairman of the All Progressives Congress (APC), Adams Oshiomhole, and some party stalwarts continue, Oshiomhole assured that with the popularity of the APC in Imo and Ogun States, the party would win the 2019 elections despite the alleged anti-party activities of their governors.
The controversial APC Chairman described the governors as poor students of their own history who have forgotten they lost elections before winning on the platform of the APC.
News Agency of Nigeria (NAN) reports that Oshiomhole vowed to win Imo and Ogun for APC while receiving the party's women leaders from Edo State and Abuja, who paid him a solidarity visit in his office in Aso Drive, Abuja.
Governors Rochas Okorocha, Ibikunle Amosun and their Zamfara State counterpart Abdul-Aziz Yari are at loggerheads with the APC national chairman for not recognising their preferred governorship candidates.
The preferred candidates in Imo and Ogun and some aides of the governors had since defected to other political parties to pursue their ambitions.
Oshiomhole said, "Those who think our political future is tied to them; they are poor students of their own political history
"Some of these people who talk as if they are invincible, they have forgotten that they have run elections in the past and lost until they abandoned their parties and joined us. So if they return back, history will repeat itself."
"Whether you are a big or small man, the rules are not supposed to discriminate. Our popularity in Imo and Ogun today is much higher. It is not that once you are a governor you have high electoral value.
"Yes in APC, our governors have high electoral value but we also have a few who are electoral liabilities."
The former Nigeria Labour Congress President said Nigeria needed to go back to the era where institutions were respected and protected and not powerful individuals.
He added that the actions of the two governors would not affect the fortunes of the party in the elections.
"In Imo state today, APC will win more votes. My focus is on ordinary Imo voters because on that day, the governor would have only one vote, his son-in-law would have only one vote while his Commissioner for Happiness would have only one vote.
"But artisans, traders, teachers and workers whose salaries are not being paid have the same weight of vote and they are excited about the renewed possibility of a new government coming with fresh ideas free of all the encumbrances of the present system. So in Imo I'm very confident.
"Vice President Yemi Osinbajo is from Ogun State. The state is one of the most enlightened States in Nigeria. They have a huge history; they are not in a political kingdom headed by one person."
"If they were looking for true reconciliation, they wouldn't have done what they did (defection of aides). That is not how democracy works. Nigeria must grow beyond this syndrome 'I'm the governor, I will decide.' You have only one vote. With due respect, I was once a governor. Overall APC is much stronger now.
Stating that the party would review if any of its rules had been breached, Oshiomhole added that the real sanction was with the electorate.
He, however, said the efforts of the Peace and Reconciliation Committee were already yielding fruits in some places while those with negotiable grievances were being sorted out.
Meanwhile, Uche Nwosu, former Chief of Staff to the Imo state governor, Rochas Okorocha, has defected from the ruling All Progressives Congress (APC) to the Action Alliance (AA) to pursue his political ambition to be the next state governor.
According to reports, Mr Nwosu disclosed this on Tuesday, at the Sam Mbakwe International Cargo Airport, Owerri, shortly after his arrival from Abuja. He reportedly said, "the APC forced me out".
"Injustice, impunity, and lack of respect for party's constitution forced me out of the All Progressives Congress," Mr. Nwosu said.
The move by the incumbent governor to back his son-in-law to succeed him has torn the party apart in the state in recent months. It had also pitched Mr Okorocha against the party's national chairman, Adams Oshimhole.
When PREMIUM TIMES contacted Mr Nwosu's spokesperson, Sam Onwuemeodo, he simply said: "Mr Nwosu is an adult and can decide to leave the APC if he wishes to".
"He is an adult. After he won the election and they (APC) denied him and gave it to somebody, who did not even participate in the primary election then what do you expect him to do, he is an adult," he said. "He must go somewhere else to pursue his ambition."
Nwosu lost the party's governorship ticket to a Senator, Hope Uzodinma.
Meanwhile, Mr Nwosu said that the entire APC structure, "except those supporting the senatorial ambition of Governor Rochas Okorocha", had defected to AA.
Nwosu further said that his ambition to succeed Mr Okorocha was driven by the massive support he enjoys by the over 70 per cent population of the state electorate.
Ironically, he also said he had no problems with President Muhammadu Buhari and will support his re-election bid.
"We are going to work with APC to deliver Imo State to President Muhammadu Buhari. We will deliver Governor Rochas Okorocha as senator because Action Alliance has no senatorial candidate in Orlu zone.
"I have no problem with President Muhammadu Buhari. My headache is the national chairman of APC. It is a divine project and we are ready for the election. It is an inter-party marriage between AA and APC in Imo State," he said.