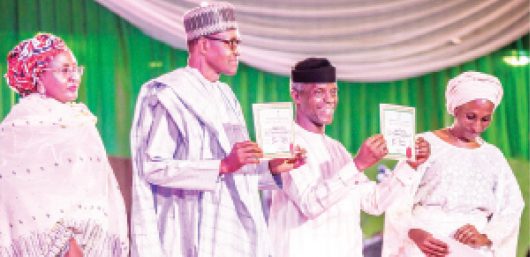 Tuesday Column By VICTORIA NGOZI IKEANO
[email protected] | 08033077519
Shall we say thank goodness that the presidential election came first, before the governorship election; otherwise there would have been high wire political tension in the land as the two major political parties would have thrown practically everything into the ring to ensure that they win what politicians consider as the ultimate prize – the presidential race, notwithstanding the results of the governorship election. Indeed our newspapers' headlines would have been, "APC, PDP battle for ultimate prize". As it is, conclusion of the presidential election with consequent announcement of its winner a week ago has more or less doused tension. Will it also douse turn out for next Saturday's gubernatorial/state house of assembly elections since the number one trophy has been won and lost? In states where the incumbent governor seeking a second term is expected to win because of varying factors, including performance, some residents there may not bother to turn up. This includes Rivers State where the major competitor, APC is shut out by the courts. By the way I do not understand how in a democracy, a court can bar a political party from fielding candidates. Is it not the prerogative of a party to choose who should fly its flag? This of course, is my laywoman view not a legal view.
It is assumed that President Mohammadu Buhari's victory in the Febuary 23 poll will have a bandwagon effect on this forthcoming election; which is why the polls were so ordered to take advantage of its bandwagon effect?. Will this expected bandwagon effect come into force on Saturday? AS the presidential results show, the main opposition candidate, Alhaji Atiku Abubakar gave a good account of himself, winning in 17 states and the federal capital territory, Abuja while incumbent President Buhari won in 19 states. Overall there are still some interesting battles which outcomes analysts are eagerly looking forward to. They include Ogun, Imo, Anambra and Kaduna, among others. In Ogun state, the PDP won the presidential election while its governorship candidate who by the way is disowned by PDP's national headquarters but recognised by INEC, Senator Buruju Kashamu is reputed to have a deep war chest and popular somehow. He and others managed to win the state for Atiku. Incumbent and outgoing Governor Ibikunle Amosun clinched a senatorial seat under the banner of APC. But the governor is supporting APM's candidate rather than the APC's official candidate, Dapo Abiodun, to take over from him. Who will triumph between Amosun's Abdulkabir Akinlade and official APC's candidates? Can Kashamu's PDP take advantage of the impending split votes within the APC fold?
It is exactly the same scenario in Imo state with APC's Governor Rochas Okorocha, except that the PDP currently has an edge in that state. So who will emerge victorious on Saturday, Governor Okorocha's proxy candidate Uche Nwosu, APC's official candidate Ifeanyi Ararume or PDP's Emeka Ihedioha? APGA's Ikedi Ohakim may spring a surprise though. In Anambra State, PDP won the presidential election and clinched all three senate seats save Anambra South that was won by YPP. But the governor is of APGA and he needs APGA members in the state assembly for smooth governance. Shall we have a near repeat of what happened in the 2015 general elections where the PDP won all senate seats while the APGA won all state house of assembly seats? Or will the assembly seats be shared among PDP, APGA and YPP? We wait to see.
The APC national leader, Asiwaju Bola Tinubu has literally gone to the battle field in Oyo state, to mobilise the electorate for the APC. This is to prevent the scenario that played out on February 23 where both the incumbent Governor AJibola Ajimobi lost his senate election and Buhari the presidential poll. Will he succeed? We await the result. In Lagos though President Buhari won with only 130,000 votes and incumbent Governor Akinwunmi Ambode is said not to be happy about not being allowed to recontest, APC's Sanwo-Olu is still expected to triumph over the PDP candidate, Jimi Agbaje. This is because despite the hype about non indigenes' voting power, no PDP candidates made it to the national assembly. This is unlike in 2015 when three non indigenes won House of Representatives election under PDP. The upper court has now given the green light for APC candidates to contest the elections in Zamfara State. But some influential aggrieved APC members are still not happy with this. They would rather the APC candidates are barred totally, ironically. Will this enbittered members rally against their party?. Still, Buhari's bandwagon effect is expected to rub off on APC candidates there.
'Fiery' Kaduna state governor, Nasir el Rufai has been fighting one political battle or other from onset, so to speak. This culminated in decamping of some APC stalwarts. The governor himself confessed that there is no love lost between him and the Christian communities. This was reflected in the presidential and national assembly elections; so much so that El Rufai chose a Muslim as his running mate for his anticipated second term. Thus, his, is a Muslim/Muslim ticket this time around. This is a courageous and revolutionary move, the first in the history of Kaduna state. The incumbent Senators Suleiman Hunkuyi and Isa Sani who left APC following disagreements with the governor lost their elections to El Rufai's APC candidates. This Saturday's poll would be a referendum on Governor El Rufai as a person not APC per se. Should the governor return, it will be big congratulations to him.
For Alhaji Atiku's north east state of Adamawa, it will be interesting to see if he can unseat APC's Governor Bindow, who he is said to have installed when they were both in the APC. It was thought that the governor would decamp with Atiku to PDP but he did not. Atiku won his state in the presidential election. Will Governor Bindow fall or return on Saturday? That is a question which answer is blowing in the air. In the north central state of Plateau where the PDP and APC votes were almost split, the governorship post could go either way. Will Benue state's Governor Ortom triumph over his godfathers a second time this Saturday? Time will tell. Abdullahi Alhaji Sule is expected to be victorious, taking over from incumbent Governor Al-makura of Nasarawa State who is now heading to the senate, having won the seat penultimate Saturday. APGA candidate, former information minister, Labaran Maku and PDP's David Ombugadu are expected to split the Eggon votes but Maku is expected to be the runner up with PDP coming third.