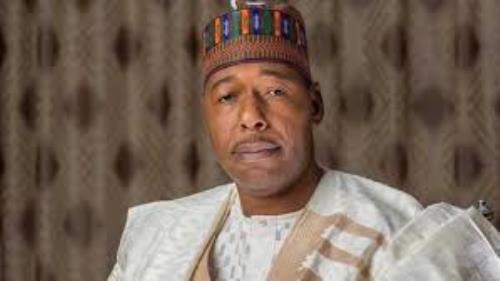 Monday Column by Emmanuel Yawe
[email protected] | 08024565402
I have seen the best and the worst of governance in Borno since my first visit to Maiduguri the state capital in 1982.
In that year, Maitatsine riots erupted in Bulunkutu quarters of Maiduguri. Abba Dabo, my Editor at the New Nigerian Newspapers in Kaduna, did not waste time in dispatching me to get there. It was outright dangerous. Two years earlier, (1980) I had reported from Kano where Maitatsine made its debut of blood and fire, unleashing a kind of urban terrorism and mindless violence that was not seen in Nigeria before.
I was young and daring; I hesitate to say careless and reckless. Such assignments excited me in those days because they offered me an opportunity to practice some youthful pranks and enjoy some little sins; they also broke the boredom of the newsroom desk. So, off to Maiduguri I went.
In Bulunkutu and some other parts of Maiduguri, I saw the carnage that was unleashed on a defenseless civil society by Maitatsine: Charred buildings and human bodies wasted by Maitatsine murderers were everywhere. I dispatched my reports describing all the horrors.
But Abba Dabo, the most excellent Editor I have ever met gave me more detailed instructions. Scripted on a weather beaten piece of paper which is still there in my archives, he instructed me to find out from traditional leaders and Islamic scholars what gave rise to the Maitatsine uprisings that had now spread from Kano to Maiduguri.
I still remember that Sunday afternoon when me in company of a fellow reporter of the Daily BABAGANA Times, Mr. Agiya Iyornumbe (now late) attempted to interview the Shehu of Borno, Mustapha Umar Ibn Umar El-kanemi. We approached the massive fortress that shields the Shehu's Palace. We expected some Palace guards there. There was none. We simply walked in expecting some security men to challenge us. Again there was none. Our great trek continued into the bowels of massive Palace.
Then something unusual happened. A voice boomed from behind us and we turned to see two men seated on a sofa. "Who are you young men and what are you looking for?" one of the men asked. "We are newspaper reporters from the New Nigerian and Daily Times. We want to meet the Shehu of Borno and interview him" I replied.
"I am the Shehu of Borno you are looking for. But you cannot interview me now. You can see I have a guest and we are holding a meeting," he replied. I took a closer look at the man I was discussing with; his trade mark cap and his facial outline all confirmed his claim. Then something like lightening hit my head. It came down to my heart, causing a disruption of my regular heart beat and passed down to my bowels to cause a great rumble there. I wanted to run, maybe to the nearest toilet to discharge my troubled bowels; but the thing that hit my head also demobilized my feet.
There we were, transfixed. What kind of problem had we caused for ourselves? As students of history, we were taught that the Kanuri people revered their Shehu, the leader of Kanem Borno and that he was held in very high esteem. All the best things of life were reserved for his exclusive use. For instance, no Kanuri man had the right to use an umbrella no matter how scorching the sun was biting or how heavy the rain was falling. And we were here, two young men, casually dressed in shirt and trouser, ransacking the Palace of the great man because we wanted an interview.
The Shehu had the powers to order our arrest and detention; maybe even torture and execution, given the wide ranging powers he enjoyed. But he spoke and treated us humanely giving us an appointment to come for an interview at a later date. Great leader, Shehu Mustapha Umar Ibn Umar El-kanemi.
After the Maitatsine uprising in Bulunkutu in 1982, another great insurgency – Boko Haram – has been ongoing in Borno since 2009. The similarities between these social upheavals are rather eerie. They are all against western education and modernity. They both advocate a reversal to the medieval practice of Islam with cruel enforcement of Sharia law.
There are various accounts of how Boko Haram started. The one that interests me the most is the one given by General Jeremiah Useni, commonly known as 'Jerry Boy'. According to him, as the National Vice Chairman of the APP, the party to which Senator Modu Sherrif also belonged, he went to Maiduguri for a party event. As Senator Modu Sherrif took him around, they were followed by a large contigent of party thugs, armed with machetes, guns and sundry other weapons of war. Their menacing conduct sent cold shivers down his spine, even as a war tested general. When he complained about this, Modu Sherrif said he should not worry. "The boys are good. They bring in votes during elections," he was assured. According to Jerry Boy, these were the boys who later became Boko Haram.
It was during the tenure of Modu Sherrif as Governor of Borno State that national newspapers were flooded with stories of massive looting of government treasury in Borno. When confronted by a reporter whether such publications worried him, the Governor gave the idiotic answer that since the population of the state was overwhelmingly illiterate, such publications did not worry him because his people did not read them anyway. The Kanuri people I know are very progressive people. But here was a Kanuri governor celebrating the ignorance of his people and rejoicing over their illiteracy.
But with the election of Prof. Babagana Umara Zulum as Governor of Borno State, things appear to be set for a change. On New Year's Day 2020 for instance, he commissioned five projects started in the last six months of 2019 and also inspected ongoing projects in Hawul Local Government Area in the southern part of the state. The governor who spent three days in Gwoza commissioning projects and distributing food items to displaced persons proceeded to Hawul on New Year's day and commissioned 100 bed capacity General Hospital in Azare town; 40-bed capacity primary healthcare centre in Kwajjafa town; and a skills acquisition centre in Marama town in Hawul initiated by community members before the government took over in June 2019. He further commissioned a primary school and a primary healthcare centre in Kwayabura also in Hawul, and inspected ongoing construction works at a central primary school and palace of the district head in kwajjafa. He was also in Sakwa town in the local government area where he inspected ongoing reconstruction of a Government Secondary School.
Governor Babagana Umaru Zulum is a man I have never met. Still, something about him tells me he is a governor to watch.