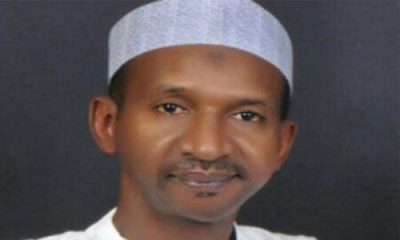 Alhaji Nuhu Gidado, until May 24, the deputy governor of Bauchi State, has explained why he resigned his position. His resignation notice sent to governor Mohammed Abubakar complained of a "dampened spirit and waning zeal" on his part. "Ordinarily, I should have remained up to the end of the tenure, but, with the current dampened spirit and waning zeal as it relates to my official engagements, my continued stay will not be fair and truthful to you as my brother and leader", he said in the letter dated May 23
"In this regard, I feel sure that Your Excellency will readily recollect the most recent discussion we had, precisely, on Thursday, April 19th, 2018, in your office, where, among other issues, I expressed to you, my contemplation to 'step aside', if need be, in order to free my conscience. I regret to say that it has become necessary to yield to that inner calling, and may this development be in accordance with the blessed will and guidance of Allah (SWT), Ameen".
News reports have speculated about a falling off between the governor and his deputy. Both tried to be diplomatic about their sour relationship which became obvious soon after the two took office in May 2015. Reacting to Gidado's decision to leave, the governor said in a terse statement put out by his media aide that he accepted his deputy's resignation with reluctance. He said he regretted that Gidado had not heeded his adice to remain in the cabinet.
However, deep beneath the veneer of diplomatese ran a strong undercurrent of a lack of trust and an overdose of frustration, felt by not only Gidado but other cabinet members who left earlier. Take, for instance, the departure of former commissioner of budget and planning Shehu Ningi who resigned in December 2017. His reason was that he found the environment under which he worked to be "unaccommodating, debilitating and non-adviser friendly".
In March 2018, the governor's special adviser on investment, Samaila Sanusi, resigned due to an "unfriendly working environment" He said "all avenues to hold talks with the governor on official issues and developments were unsuccessful." At the same time, Munnir Yisin, deputy caretaker chairman of Tafawa Balewa local government area, tendered his resignation.
We note with dismay a return to the years of undisguised conflict between elected chief executives and their deputies. It was particularly bad in the years immediately after 1999 when constitutional rule was restored. President Olusegun Obasanjo and Vice President Atiku Abubakar spent almost the whole of their second term fighting each other in the open. The Supreme Court had to intervene to save Atiku's job. In Plateau State, gov. David Jonah Jang Joshua and his deputy Mrs. Pauline Tallen behaved like two captains on a ship, always bickering. Ditto inTaraba where gov. Jolly Nyame engineered the removal of two of his deputies. It also happened in Bauchi State before the present case.
However, as years rolled by and our democracy matured we began to see less of the personality clashes. Until now.
There are a number of factors that explain this sad development. One, the nation's Constitution does not specify the role of deputy governors under an executive system of governance. What role the deputy gets to play is dependent on the alchemy between him and his boss. Often the chemistry is wrong. Secondly, the choice of a running mate to take into an election often is not that of the owner of the ticket but the political party that puts him up. This imposition is the cause of the conflict between governors and their deputies. Today is the right time to rethink these two points, the one constitutional and the other political. Deputies should get constitutionally defined duties, not depending on the goodwill of their bosses. Politically, governors should be allowed to pick their deputies who should be persons they can trust.