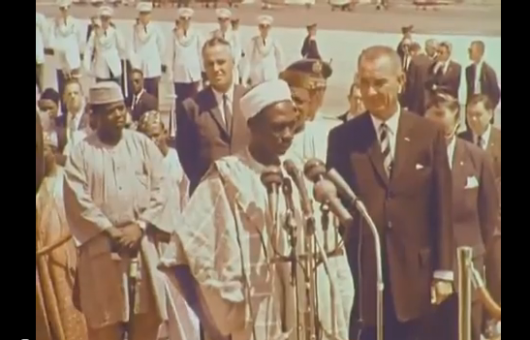 Monday Column by Emmanuel Yawe
[email protected] | 08024565402
Nigeria is a product of the tireless efforts of British people to subjugate Africans. In 1914, these efforts bore fruit when the arch colonial adventurer, Frederick Lugard merged the Southern and Northern Protectorates. Not a very brilliant man, he created a country but could not think of a name for it. He relied on the creativity of his girlfriend, Florence Shaw – a journalist – who named the new country Nigeria.
Nigeria was thus born as a British territory. The Union Jack was hosted here and we became a conquered people. Our hapless ancestors were made to sing 'God Save the Gracious Queen/King' as their National Anthem.
Not for too long anyway. Soon, it became clear to the Brits that they had bought an empty bag. Nigerians were up in revolt against endless foreign domination.
It began in 1922 when Herbert Macaulay, grandson of Bishop Ajayi Crowther, the first African Anglican Bishop in Nigeria, opened up shop as the first Nigerian to establish a political party. He called it the Nigerian National Democratic Party (NNDP). Later he was joined by Dr. Nnamdi Azikiwe and they jointly founded the National Council of Nigeria and Cameroons (NCNC) in 1944.
Up till 1944, their activities were limited to Lagos. In 1946, the duo went on a nationwide campaign and tragedy struck. Herbert Macaulay took ill in Kano and died there. The button was thus passed to Dr. Nnamdi Azikiwe, the fiery journalist and orator who gave the Brits sleepless nights with his pen and tongue. I met him in the early 80's when as a journalist I covered his campaigns. The old warrior soldiered on in his campaigns up to that time to become Nigeria's President. He left a lasting positive impression on me.
Chief Obafemi Awolowo was yet another Nigerian who helped to chase the Brits from our land. He was a co-founder of 'Egbe Omo Oduduwa' (Society of the descendants of Oduduwa, the mythical ancestor Yoruba-speaking peoples), an organization devoted to the study and preservation of Yoruba culture. This organization later metamorphosed into the Action Group in 1950. In my years of service to my country 1979-1980, Adekunle Ajasin under whose office – he was Governor of Ondo State – I worked often took me to me to his modest house in Owo where the historic decision to promote the organization from its pure cultural status to a full blown political party was taken.
There was also Chief Anthony Enahoro, the man who made history as the youngest ever Nigerian to be made an Editor at the age of 21. He was the Editor the Southern Nigerian Defender founded by Dr. Nnamdi Azikiwe. On two occasions, the colonial government sent him to jail for his anti-colonial essays. In 1953, he moved a motion for Nigeria's independence, the first person to move such a motion in the Nigerian parliament.
Up North, men like the Sardauna of Sokoto, Sir Ahmadu Bello and Abubakar Tafawa Balewa led the fight against colonial rule in their party, the Northern People's Congress, (NPC). There were other Northerners: Malam Aminu Kano, Joseph Tarka, Bello Ijumu, Patrick Dokotiri, Raji Abdallah, Hajia Gambo Sawaba and a host of other leaders from the North who fought relentlessly for an independent Nigeria.
From Lagos to Sokoto therefore, the demand for independence was loud and clear. The attitudes of the those clamoring for independence from the colonial masters however differed. Why some nationalists were impatient and wanted immediate termination of colonial rule, others like Sir Ahmadu took a more accommodating posture. In his book, My Life, he wrote that "the British were instruments of destiny and fulfilling the will of God. In their own way they did it well. We were used to conquerors and these were different: they were polite and obviously out to help us and not themselves."
Many analysts who read these views conclude that the Sardauna and the north generally were sympathetic to colonial domination of Nigeria. They forget the fact that the north also had her radical opponents to colonial rule.
Men like Raji Abdallah, the fiery Zikist who said at a public rally that "I hate the Union Jack with all my heart because it divides the people wherever it goes. It is a symbol of persecution, of domination, a symbol of exploitation and a symbol of brutality. We have passed the age of petition, the age of resolution, the age of diplomacy. This is the age of action, plain, blunt, positive action." For this speech, he was promptly arrested by British colonialists who rewarded him with a heavy prison sentence.
Another radical anti-colonialist from the north was Malam Saad Zungur, a journalist. In his columns in the West African Pilot newspaper, he alleged that Nigerians were being exploited by the British. His allegations provoked the colonialist to such an extent that one Mr Ogly, a British foreman with the UAC loaded his rifle and started stalking Saad Zungur with the sole aim of assassinating him. When Saad spotted him trying to shoot him, he took to his heels and Mr Ogly started running after him to shoot him in broad daylight. This incidence was the first of its kind in the history of anti-colonial journalism in Nigeria. Even the colonial masters were embarrassed by the action of the would-be assassin. A colonial Magistrate court sitting in Jos convicted him and sentenced him to a fine of five pounds.
In 1950, the colonial masters were shocked to receive a letter of resignation from a school teacher in Sokoto. In it he wrote: "I resigned because there is no freedom to criticize this most archaic, anachronistic and un-Islamic form of hollow institutions promulgated by Lugard. I cannot tolerate these institutions because of their smell. I cannot tolerate them because they do not tolerate anyone. They even go to the extent of dooming the future of their critics.
"I have seen the light in the horizon and I am prepared to walk in its full circle alone, or with whoever decides to go with me."
Malam Aminu Kano, the writer of the letter of resignation was certainly not alone. In Enugu, miners backed up their demands for better conditions of service with a "go slow" strike. A large mob of women and miners armed with machetes and sticks went into confrontation with colonial police who were armed with automatic weapons. The police gunned down twenty-one miners and wounded fifty-one.
It was like a wild fire burning all over Nigeria. The desire for freedom sparked a call for change that threatened the very foundations of British colonial hegemony. On October 1 1960, the British finally succumbed; the Union Jack was humbly lowered and we stopped singing God Save the Gracious Queen.