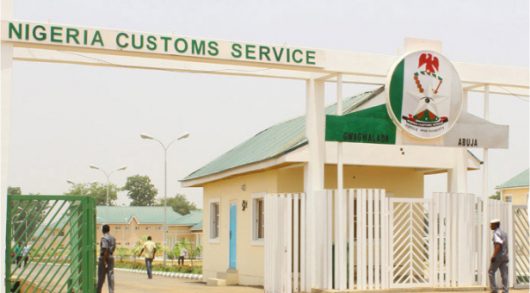 From Femi Oyelola Kaduna
Nigerian Customs Services (NCS) Zone 'B' has made a total of 71 seisures with a duty of N126,827,630 in the month of August and September, 2018, the Deputy Comptroller of Customs (DCC) and National Coordinator of the Comptroller General of Customs (CGC) strike force, Alhaji Abdullahi Dahiru Kirawa has disclosed.
Addressing newsmen in Kaduna yesterday shortly after inspection of the seizures, Alhaji Kirawa gave the breakdown of the seizures to include 3,983 bags of 50kg assorted rice, 393 jerry cans of 25 litres of vegetable oil and 456 bales of second hand clothing.
Others items seized, he said were 70 bags of 50kg sugar, 50 cartons of spaghetti and 49 various types of vehicles suspected to have been smuggled through the land borders popularly called tokunbo and brand new ones.
He stressed that the setting up of the strike force is with the mandate to ensuring effective suppression of smuggling , facilitation of trade and increase in revenue generation and collection by the service through enhanced, well stepped up and coordinated enforcement duties by patrolling the nooks and crannies of the country.
The strike force National Coordinator further stressed that his team will continue to work round the clock to reduce to the barest minimum all forms of smuggling which he described as an unpatriotic act and economic sabotage.
"In the same vein, we advise the trading public to conduct their businesses within the ambit of the law, as the renewed vigour by the strike force officers and men will not relent in its efforts by ensuring that die hard smugglers are arrested and prosecuted to serve as deterrent to others.
" We call in all, especially our friends in the business community and media to partner with us to make Nigeria a better place for all where industrialization supports youth employment".
When asked what will be done with the seized goods, he said most of the goods particularly food items and clothing are being taken to the IDP camps while some others like the vehicles if not cleared within a stipulated period are being auctioned according to laid down procedures.