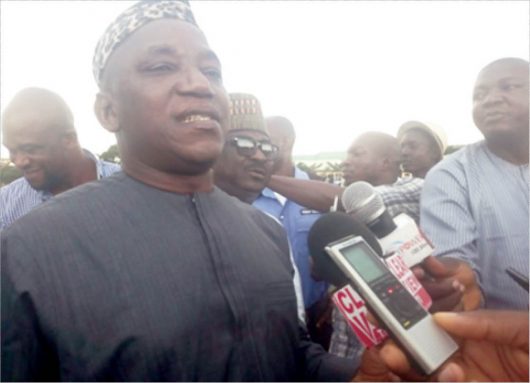 By Amaechi Agbo
Former Minister of youth and sports development, Barr. Solomon Dalung has commended the management of Bimo Sporting Club of Ogidi, Anambra State for their initiative in promoting grassroots football development in the country.
Barr. Dalung who made the commendation in Abuja Tuesday at the final of the maiden edition of of the Bimo Sporting Club Club Youth Football Tournament played at Area 3 Play Ground, said with more private hands in the football sector, football and other sports will eliminate crimes and social vices in the country.
FWC Champions came frombehind to beat Goddosky Internationa Football Club 2-1 to emerge champions of the tournament.
"I am not happy because I came here late. You can see I came when the match has ended. My intention ws to watch the match from the beginning to the final whistle. Nevertheless, kudos to the winners.
"I came here today (Tuesday) because of my passion for the game and sports generally. This passion is not because I was former minister of sports. It trancendes that period.
"Chinedu Okoye, the chiarman of Bimo Sporting Club, by this singular act is doing a great job and I commend him. We can all see how beautiful the tournament was and the number of digniatries that came t watch the final. This tells you that with the right administration and funding, we can harness and maximise our potentional in sports and rule the world.
"If we can get more hands, private individuals like this running and promoting not just football but other sports, we will be world beaters in global competitions. we have the raw talents everywhere in the country but underfunding is the bane of discovering and harnessing these potentials for national glory.
"Look at the atheletes that competed in Doha. Almost of of them are blacked skined. Does that send a message? Very well. It means that Africa is competing against herself. And it also means that we have not put our money where our heart is.
"Sports is a business and in this part of the world, we have not realised it. Government is yet to see sports as a business investment and that is why we have the kind of budgatory allocation we have today for sports. As an investment, if you do not invest, you will not reap the fruit of the investment. Look at countries like Kenya, Ethiopia and now Uganda. These are countries who are prioritising sports currently. We need to go in that direction if we need to make progress in sports development," he said.
Speaking on the vision behind the tournament and the success recoded, Bimo SPortsing Club Chairman, Chinedu Okoye said that the main reason the club decided to organise the tournament was to scount for talented players and help in grassroots football development in the Federal Capital territory adding that despite obvious challenges in the first edition, subsequent ones will witness great improvements.
He appreciated the clubs that participated in the tournament and assured that of greater and better organisation in the future.
"I am a happy man. Not because of this tournament but because so many personalities honoured this tournament as well as great clubs in the FCT participated in it. So it is a thing of joy.
"The vision behind this tournament is for us to scout for hidden talents and we have achieved that. Nigeria is blessed with abundant talents but if these talented players are not discovered and giving a platform to nurture their career, we we end up either having angry disillusioned youth population or we are going to see a country at war because of crimes and social vices.
"I congratulate the winners, FWC Champions, they have engraved their name in history because this tournament, by the grace of God and support of all Nigerians will outlive all us.
"I also want to than all the management and coaches of the 14 teams that participated in the tournament. I am sure of our obvious lapses and we assure them that subsequent editions will witness great improvements," he said.
FWC Champions who emerged champions of the tournament went home with the sum of one hundred thousand naira (N100, 000. 00) only while the runners up, Goddosky International FC went home with fifty thousand naira (N50, 000. 00) only.
The two teams as well as officials in the final match also got medals each.
A total of 14 clubs participated in the maiden edition of the 2019 Bimo Sporting Club Youth Football Tournament.