Ozor Enyinna assumes prestigious title 23 years after Chief Bernard Eze's demise
Report by Cosmas Uzoha
In a remarkable ceremony that brought joy and excitement to the people of Ugbabe clan, Obollo, in Udenu Local Government Area of Enugu State, the civic reception in honour of the grand conferment of the new Oko Ugbabe, Ozor Enyinna Odumegwu Ogbonna, took place at the compound of Chief Patrick Ugwuabah, the Onyishi (Eldest man) in Ugbabe clan, on Saturday October 28, 2023. The mega event was at the instance of the new Oko, as custom of the people demands, two native weeks after his conferment. This historic event marked the revival of an ancient tradition that had not been witnessed for over two decades.
All roads had led to the same venue eight days back when the conferment was pronounced and Ozor Enyinna was coronated.
Ugbabe is a confluence name for all descendants of Olenyi (the patriarchal progenitor of Obollo people), begotten by Ugbabe Ijike, who was Olenyi's first son. They are the most populous clan of all Olenyi descendants, and are versed across all walks of human endeavours. They are famed as pride of Obollo land.
The Oko Ugbabe title is the highest traditional honor bestowed upon any son of Ugbabe found worthy of the title. The prestigious title represents not only an individual's lineage but also the rich heritage and cultural significance of the entire community. After a long 23-year interregnum since the passing of the last title holder, Chief Bernard Eze, the community eagerly awaited the emergence of a new Oko Ugbabe.
The ceremony began with a colorful procession led by Ugbabe Elders in Council, who donned traditional regalia, accompanied by a retinue of elders and chiefs from the Ugbabe clan. The procession wound its way into the venue, with enthusiastic onlookers eagerly anticipating the momentous occasion. Then followed the elegant entrance of the brand new Oko, who came in with the cultural music amidst traditional paraphernalia!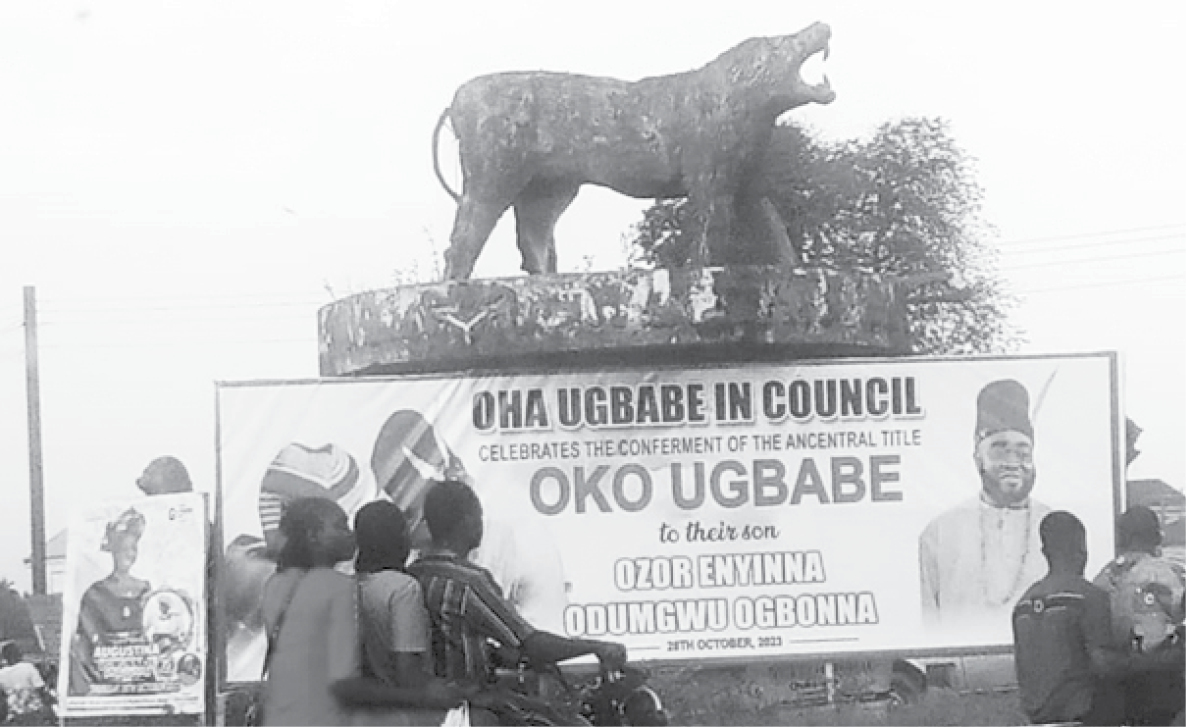 Upon arriving, the atmosphere was filled with an air of excitement, heightened by the rhythmic beats of traditional drums and the joyful ululations of women. The compound, beautifully adorned with vibrant decorations, reflected the community's enthusiasm and support for the new Oko Ugbabe, Ozor Enyinna.
According to indigenous respondents from the community who fielded answers to newsmen, the ceremony was an affirmation of the title recipient by an assembly of respected Ugbabe Elders including traditional rulers, community leaders, and elders who unanimously proclaimed Ozor Enyinna as the rightful successor to the Oko Ugbabe title. In his address, Chief Patrick Ugwuaba hailed the chosen one, highlighting his excellent character, commitment to community development, and dedication to upholding the traditions of Obollo land.
Addressing the gathering, the newly coronated Oko Ugbabe, Ozor Enyinna, expressed his gratitude for the honor bestowed upon him and pledged to carry out his responsibilities diligently. He acknowledged the legacy left behind by Chief Bernard Eze and promised to build upon it, stating, "I will use this title as a platform to unite our people, promote our cultural heritage, and contribute to the development of our community."
Prior to taking up this title, Ozor Enyinna Odumegwu Ogbonna is the Founder, CEO/MD of Odumegwu Constructions Ltd. He founded the company after his graduation from Enugu State University of Science & Technology, Enugu. He had excellent educational upbringing passing through highbrow Schools in his formative years — Hillcrest Proprietary School Nsukka for his primary education, and Christ the King College Abuja for his secondary school.
He is said to be a habitual philanthropist, offering out-of-pocket bursary and scholarship schemes for less privileged members of the community. Over twenty indigent young men and women have benefited from private empowerment schemes. Stories were told of how he uplifts the downtrodden through economic empowerment etc. Most Okada riders interviewed in Obollo Afor owe their thriving transport services to him for gifting them bikes free of charge.
The reception was nothing short of splendid. The entire community gathered to honor the new Oko Ugbabe, expressing their joy through energetic dance performances, melodious cultural songs, and heartfelt prayers. Traditional delicacies were prepared, and guests were treated to a sumptuous feast, replete with traditional cuisine.
Numerous dignitaries attended the event, including government officials among whom is Udenu Mayor, Hon. Solomon Onah, who came in company of Aninri and Igbo Eze North Council Chairmen, traditional rulers from neighboring communities, religious leaders, and representatives from various cultural organizations. Their presence symbolized the importance of the occasion and the respect accorded to the Ugbabe clan and the Obollo-Etiti community.
The revival of the Oko Ugbabe title not only reconnects the present generation with their rich cultural history but also serves as a catalyst for socioeconomic development within the community. The significance of this event cannot be overstated, as it reinforces the importance of preserving and promoting indigenous traditions in the face of modernization.
Post-coronation, Ozor Enyinna is expected to play an instrumental role in ensuring the unity, progress, and development of the Ugbabe clan. With his ascendancy, the community looks forward to the implementation of various initiatives which includes using his contacts to attract government attention and presence in the community. This will, in turn, help in empowering the youths, improving infrastructure, enhancing educational opportunities, and promoting healthcare services within Ugbabe clan spread across Obollo Afor, Obollo Eke and Obollo Etiti.
As the festivities gradually came to a close by the twilight, a sense of pride and hope lingered in the hearts of the attendees. The coronation of Ozor Enyinna as the new Oko Ugbabe signifies a renewed commitment to cultural heritage, unity, and progress in Obollo land. With a promising future ahead, the stage is set for the Ugbabe clan and the entire community to flourish under the leadership of their newly crowned traditional chieftain.
Uzoha contributed this piece from Obollo Afor