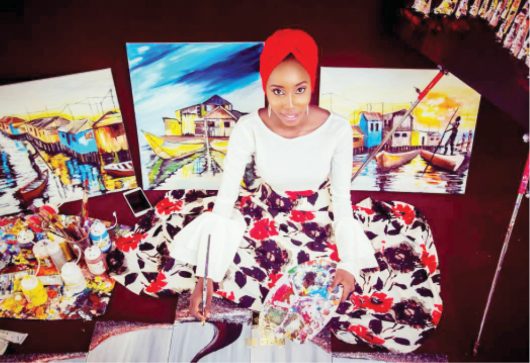 By Sumaiya Musa
A Nigerian youth named Maryam maigida has been practising artistry since her childhood and it has become her source of living.
Maryam studied at the Ahmadu Bello University, majoring in artistry and has a degree of B.A fine arts.
Her passion for art grew more with the influence of her lecturers Professor Jerry Buhari and Dr muazzu Muhammad, lecturers in Art and Painting Ahmadu Bello University Zaria.
She participated in several exhibitions like live in my city, and also a solo exhibition in 2015 at Ahmadu Bello University Zaria. Maryam has produced over 200 artworks and her styles of work are abstract, naturalism, and landscapes.
Maryam maigida coming from the northern part of the country of Yobe state, uses the medium of painting to communicate and also beautify the society.
She depicts most of her works with the use of mix media such as buttons, shells, zips, and beads.
She said her inspirations come from nature and the daily occurrence in her environment. Also, factors which affect the environment such as political, economical, cultural, agricultural and religious factors contribute in inspiring.her.
Maryam claims that she has gained a lot in the art business because people tend to buy her works and use them in their homes, offices or companies.
She also wishes to open a private art gallery to inspire many young talented artists in general. This is so that art and painting can be recognised and appreciated in the society.