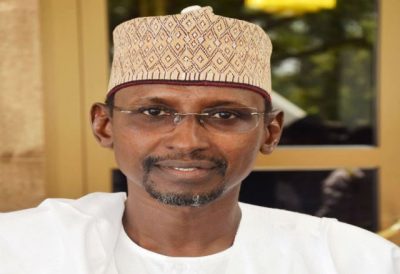 By Stanley Onyekwere
The FCT Minister, Mallam Muhammad Musa Bello has reiterated resolve to ensure greater involvement of youth in science and technology, for the advancement of the society.
Bello noted that the FCT Administration remains unwaivering towards harnessing the economic and scientific potentials of the science and technology sector.
The Minister made this point yesterday while declaring open the 4th edition of FCT Science and Technology (FASTECH) exhibition, with the theme: Technology and Society in the 21st Century.
Bello, who was represented by the Secretary for Education, Senator Isa Maina, at the FASTECH Expo, holding in the FCT Department of Science and Technology, in Utako, stressed that the importance of science in human endeavours.
According to him, the recent excellent performance of FCT students in science and technology competitions demonstrates our priority attention to sector.
He called on the Department and stakeholders to ensure that the exhibition becomes a continuous event, in order to sustain the technological development in the FCT.
In her welcome address, Acting Director, Department of Science and Technology, MRS. Ibrahim Christiana, said purpose of the event is to showcase the innovations from schools and stakeholders in science and technology.
She added that rationale for this occasion is to promote indigenous enterprises, build trust in made in Nigeria goods, link innovators with entrepreneurs for effective commercialization of innovations and inventions.
She urged stakeholders to actively participate in the exhibition, as it is a rare opportunity for all to see in practical terms the creativity in Nigerian scientists, fabricators inventors, which will impact positively in the economy.
In a goodwill message, Chairman, FCT Council of Chiefs and Ona of Abaji, Adamu Baba Yunusa, stressed the need to always embark on the development of technology to solve the ever changing problems of the society.
The monarch, represented by Esu Kwali, Audu Shaban Nizazzo, noted it's not enough research works without developing them into viable products for the use of the society.
He therefore urged the government to encourage schools especially teachers to do more than churning out research works without putting them into useful things to the society.
Similarly, Pioneer Director, FCT Science and Tech Department, Hajya Fatima Baba-Ari, noted overtime, something positive always comes from science and technology sector.
She appealed to the government to continue offering support in the form of finance and policies,
Technical and vocational education should be be given priority attention by the government, because of its economic importance to the society.
On his part, Vice Chancellor, University of Abuja, Prof Michael Adikwu while presenting a paper on the theme of the Expo, decried the fallen standard of education in Nigeria especially advanced learning, which must improve to pave way for the advancement of science and technology.
He advocated for the retooling of science teaching and research curriculum, as both should not be too different from each other, this according to him will make teaching less stressful.