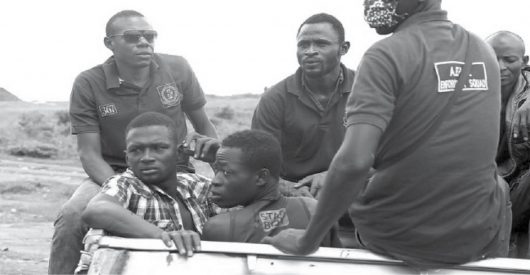 By Stanley Onyekwere
In furtherance to its bid to sanitise the nation's capital city, the Federal Capital Territory (FCT ) Ministerial Taskforce on City Sanitation yesterday revisited and raided a notorious illicit drug dealers colony on the Tora Gora Hill, near Apo roundabouts, in Abuja.
Also, the Taskforce dislodged some drug peddllers in Games Village, where it made some arrests and recovered prohibited substances as well as items belonging to some victims of the illicit trade.
Recall that the latest raid was the third carried out by the Taskforce, on the Tora Gora Hill, adjudged to be the capital of illicit drugs peddllers supply colony in the FCT.
It was observed that more shocking discoveries were made when the Task Force while on a routine surveillance found ladies bags, shoes and other sundry accessories in the places visited.
During the raid, while several members of the drug peddllers fled their trade zones, leaving their wares, four of them were arrested and handed over to the police, who are part of the Taskforce, for further investigation and prosecution.
Speaking after the exercise, Chairman of the Task Force, Ikharo Attah revealed that victims of illicit drugs peddllers in the nation's capital city are largely young ladies, who seems to be their main target.
He reiterated zeal for the restoration of improved sanitation and safety of the city especially ensuring that criminal elements leave around the fringes of the city's major road corridors and green areas.
"We are wagging a strong war because Tora Gora has been the main supply chain of drugs in the FCT. And these drug dealers, addicts or criminals actually find that place as a safe haven for their operations.
"We strongly believe that the victims of drug addiction are largely innocent ladies, as most of these items were stolen from around the neighborhood of Gudu or around the FCT.
"The last time we went there, about two weeks ago, we discovered a fire arm, bags of Indian hemp and codin, and we have also discovered same now, so we are believing that if we give that a good fight, we will be saving and making them mentally balanced people.
"We have been doing this continuously for over two months and we hope not to stop, once or twice every week, we come out with bags of Indian hemp, boxes of codin and tramadol.
"And we hope to be able to sustain this, because the primary purpose of government is security and we can go as far as government wants us to go.
"But we are going far, and each time we go there, we save a life, so the more frequently we go there, the better for the city", Attah stated.