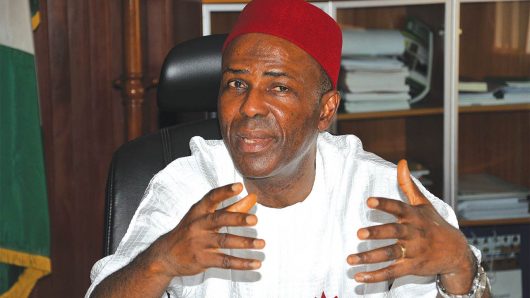 By Ese Awhotu Abuja
The Federal Government may soon establish two new agencies-the National Agency for Desertification and Erosion Research (NADER) and the National Agency for Research in Robotics and Artificial Intelligence (NARRAI) in the country.
At the official inauguration of the Inter-Ministerial Committee for their establishment on Tuesday in Abuja, the Minister of Science and Technology, Dr. Onu disclosed that the decision to establish the Agencies was reached at the last meeting of National Research and Innovation Council to enable Nigeria achieve effective industrialization.
He challenged members of the Committee to see their assignment with a sense of urgency and come up with a practicable and robust template to actualize effective take-off of the two agencies.
A statement by AbdulGaniyu Aminu, Head, Press and Public Relations Unit of the ministry, said that, the establishment of the two agencies will also broaden the scope of scientific knowledge in the best interest of the country, Dr, Onu added Dr. Onu said that there is no way Nigeria can achieve effective industrialization without investment in Robotics and Artificial Intelligence because it is critical to manufacturing, health care delivery and transportation.
He added that the proposed agencies will provide the platform to train Nigerians on the utilization of Artificial Intelligence to fast-track Nigeria's economic growth and industrialization.
Speaking further, Dr. Onu, said that to be a great nation Nigeria cannot continue to rely on other nations, adding that Robotics and Artificial Intelligence will boost our knowledge of space, Ocean and Development.
In his remarks, the Chairman of the Committee and Director Science and Technology Promotion Department, Dr. Ekanem Udoh, assured the Minister that the committee will come with up with a workable template that would stand the test of time and meet the aspirations of Nigerians.