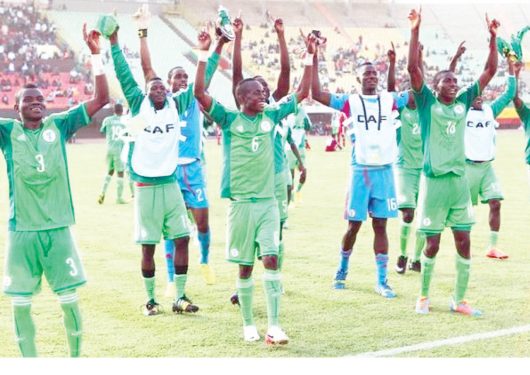 By Albert Akota and Amaechi Agbo
Nigeria football Federation President, Ambassador Chris Giwa has promised the Flying Eagles N. 5m for every goal scored against Mauritania in this weekend's game.
Ambassador Giwa assured the team that in addition to their allowances that will be paid, he will personally give them N500, 000 per goal as his support and encouragement.
"You have worked hard to come this far and I can only inspire and motivate you by promising a token of N. 5m for every goal you score, so the ball is now in your court to deliver", Giwa said.
The President was represented by Otunba Dele Ajayi, who led the delegation to Mauritania, assured Nigerians that they will do the nation proud.
The team left for Mauritania aboard Air Cote d' Ivoire at about 8.45am yesterday for the final round of the African Under-20 qualifiers that will take place on Saturday 4pm Nigerian time and 5.30pm local time.
Meanwhile, Nigeria football Federation President, Ambassador Chris Giwa says the demand and expectations on the new board are very high but he trusts God to succeed.
The NFF president stated this yesterday in Abuja when a strong 30-man delegation from Plateau state paid him a solidarity visit.
Giwa said the most important desire of his heart and the board was to ensure that nobody was oppressed in the sports sector, who has genuine interest and passion for its development.
"Football is the greatest unifying factor in our country and I think God has brought me at a time like this to be an instrument of change in our sports," Giwa noted.
He further stated: "I don't believe in failure and we will never fail by the grace of God, who has brought us this far, through a tortuous journey to justice."
Earlier, the leader of the delegation, Dr Ishaya Pam traced the historical contributions of Giwa in building Plateau United and football generally in the state, which the state was reaping the benefits today.
He noted that Giwa had created job opportunities for teeming youth across the country with his club Giwa FC, while highlighting the state's contributions to football development in the country with the likes of Mike Obi, Ahmed Musa, Ogenyi Onazi, and Uche Agbo among others
"I want you to forget the years that the locust has eaten because God will restore those years, and I also want you to be magnanimous in victory, as we have always known you to have a large heart, please forgive and carry everyone along, "Pam stated.
The former Jos University Teaching Hospital FC Chairman also commended President Muhammadu Buhari and Sports Minister Solomon Dalung for standing by justice and not allowing the blackmail in some sections of the media to deter them.
Pam, who said the delegation was a cross section of residents in Plateau from different ethnic and religious backgrounds, enjoined Nigerians to support Giwa to deliver on his mandate.