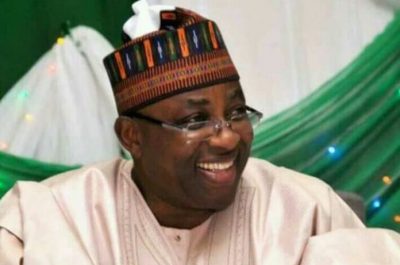 By Ese Awhotu
Honourable Kawu Labaran, political adviser to the Bauchi State Governor, M. A. Abubakar has berated two prominent politicians in the state, Alhaji Ibrahim Yakubu Lame and Alhaji Bala Jibrin for not accepting their defeat in State's governorship primaries.
He accused them of resorting to cheap blackmail with the sole aim of rocking the boat in the State.
He said that, the " The Bauchi State Government has been compelled to react to the text of a press conference held in Abuja on Wednesday, 7th of November 2018 by two politicians, Alhaji Ibrahim Yakubu Lame and Alhaji Bala Jibrin, who never learn to come to reality with the fact that power, any power, comes from God and not through anybody's wish.
"Since the APC primaries that held to select candidates that will fly the party's flag in the 2019 general elections in which Alhaji Ibrahim Yakubu Lame and Alhaji Bala Jibrin lost their bid to take the gubernatorial ticket, the two paper weight politicians have explored and exhausted every opportunity all available internal party mechanism to seek redress to what they called 'injustice'."
According to the governor's aide in a statement he personally signed " Their last point of call was the Aso Rock villa where the president pointedly told them to channel their grievances to the appropriate party leadership.
Alhaji Lame and Alhaji Jibrin appeared not to be satisfied with that kind of response, because their expectation, which their followers have been drumming up in social media platforms, was for Mr. President to simply take the 2019 Bauchi APC flag and hand over to one of them, particularly Alhaji Bala Jibrin who came distant third in the direct primary election that gave victory to Governor Mohammed Abubakar."
He explained that it is not the intention of the government to respond to all the frivolous allegations they made in the text they read to journalists in Abuja mainly because Bauchi State Government under the leadership of Governor M. A. Abubakar has very strong believe in constituted authority.
Labaran accused the two politicians of not having respect for existing laws.
He said candidates duly nominated are submitted to INEC, the nation's electoral umpire, by the political parties.
"In the case of Bauchi State, the gubernatorial candidate that was duly nominated to fly APC's flag in 2019 is Mohammed Abdullahi Abubakar and that has been fully acknowledged by the Independent National Electoral Commission, INEC."
He noted that ultimately, the decision of who occupies the Bauchi Government House is solely that of voter, the common man whose life the administration of Governor M. A. Abubakar has in the last three years touched positively in spite of failed attempts by elections losers to distract him.