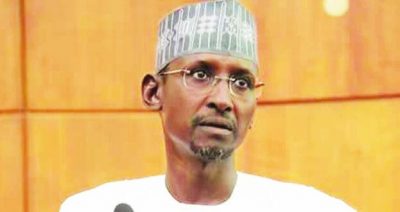 By Stanley Onyekwere
The FCT Minister, Malam Muhammad Musa Bello has called for more private sector participation in healthcare in the FCT, as the government alone cannot provide the required bed spaces and all the needed specialties.
Bello, who was reacting to the reports mass exodus of doctors from the country to practice overseas, appealed to resident doctors to resist the allure of seeking greener pastures in other climes and make the necessary sacrifices for the greater good of FCT and country at large.
He made the plea when the Association of Resident Doctors, FCTA Chapter as well as the FCT Chapter of the Nigeria Medical Association (NMA) separately paid him a courtesy visit in his office.
The Minister also called for introspection among the doctors, saying the countries they are rushing to today were once in similar situation as Nigeria and were only able to advance through shear hard work and sacrifices.
"I appeal to you and your members to continue to stay within the system because I believe we have a great country. If we all look at our personal needs and requirement, we will say yes, we want greener pastures. But if we all go for greener pastures, who is going to develop this country?
"For us to really develop this country, we have to sit down and agree to work and sacrifice and we will really truly put our country in the right footing.
"Let's stay and salvage this country. If we are able to do all that, we will be a shining example for other countries of the world," Bello stressed.
Furthermore, he pleaded with all unions and professional associations to place a 5-Year moratorium on strikes and all forms of industrial action as a patriotic sacrifice that would give the country a chance to lay strong foundations for economic development and nation building.
Bello however thanked the medical documents for their patriotism, by not joining the brain drain train in search of greener pastures abroad.
He reiterated that FCT Administration will continue to support the association to ensure that they remain in the system as partners in progress and excel their career.
He gave assurances that payments that have already been commenced by the FCTA will continue as a work in progress with budgetary provisions, adding that ongoing hospital projects will be completed to cope with the increasing demand on health facilities in the city.
He further revealed that FCT Administration has reached some significant milestones in resolving many of the issues affecting health professionals that have been lingering for over 10 years while calling for patience and understanding as government tackles some of the more complex issues of funding.
Earlier in his remarks, the President, Association of Resident Doctors, FCTA Chapter, Dr. Michael Olanrewaju lamented that doctors trained to high degree of proficiency in different medical discipline in the FCTA were now leaving the country in droves while those left behind were also spoiling to hop unto the bandwagon.
This, he said has resulted in a situation where the doctors are now overstretched in their respective places of work, with low doctor-patient ratio making it difficult for them to function properly, while patients that could be conveniently managed at the primary level are thronging the secondary and tertiary centres to access care.
Similarly, the Chairman, Nigeria Medical Association (NMA), FCT Chapter, Dr. Ekpe Uche Phillips appealed for more manpower to cope with the excessive inflow of patients as a result of increasing migration of people from other states to the FCT.
Dr. Ekpe opined that the work force is highly depleted and stretched as a result of brain drain amongst health workers, adding that there is need to convert the local staff to regular staff, while employing more doctors and nurses to reduce the shortage and deliver quality healthcare.
The Chairman while also calling for the opening of more hospitals to tackle the problem of low bed space in the FCT, disclosed patients are now being referred to private hospitals and even hospitals outside the FCT, with the attendant delay, leading to preventable complications, including mortality.
Meanwhile, FCTA was commended for sustaining the free antenatal care services in sub-urban and rural communities which he said has saved lives of mothers and babies of all Nigerians who ordinarily cannot afford quality healthcare that FCT provides.