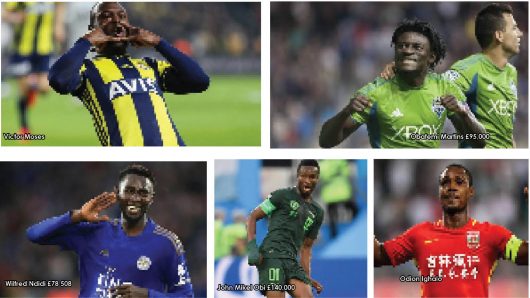 By Albert Akota with agency report
Football is one of the most lucrative sports in the world. Despite being a team sport requiring lots of players the sports still has the largest number of rich sportsmen. Every year huge amount of money is channelled into the sport.
The persistent rise in business titan's investment in the sport all around the world makes the sport even more lucrative. This explains why top footballers occupy ranking positions in the list of richest sportsmen.
Giving the multiplicity of Nigerian talented players all over the world Nigerian internationals are not left out of the list of players raking in huge wages steadily.
The Nigerian international was born on December 12, 1990 to a strong Christian family. He father was killed in a religious riot in Kaduna when he was just 11.
This led to his sojourn in England. He started playing football for Cosmos 90 FC in a local league, Tandridge League.
Moses represented England youth teams at under-rated, under-rated, under-19 and under-21 levels, but opted to play for Nigeria as opposed to being fully capped for England.
He has gained over 20 caps for Nigeria since his debut in 2012 and played in their winning campaign at the 2013 Africa Cup of Nations, as well as the campaign in the 2014 FIFA World Cup.
He currently earns £75,000 weekly as his salary and currently is on loan to Fernabache FC from Chelsea.
Born on December 16, 1996 in Lagos, Nigeria, the midfielder began his youth career with local side Nath Boys Academy, a Nigerian based football academy founded in 2010.
After developing as a footballer for 5 years he was scouted and signed by Belgian Pro League club KRC Genk.
He made 6 appearance in his debut season. His second season at the club would see him cement his position in the starting line up with 43 appearances in all completions with 4 goals to his name.
He was signed by Leicester City FC January 2017 for a reported fee of £17 million to replace the departing N'Golo Kante.
He completed his debut season with 17 appearances, 2 goals and 1 assist as Leicester City finished 12th in the Premier League table.
The 2017/18 season would see the midfielder become a first team regular for The Foxes, he featured in 33 out of 38 Premier League games as the club improved their position in the league table for a top 10 finish.
Obafemi Akinwunmi Martins is another rich Nigerian footballer who plays as a forward. This player is known for his speed on the ball.
After leaving Nigeria for Italy at age 16, he has since played for a number of top-division clubs around Europe.
Obafemi Martins began his senior career in 2002 at the Italian Serie A Club Inter Milan, before moving to the English Premier League club Newcastle in 2006, and then the German Bundesliga club VfL Wolfsburg in 2009.
Having joined Russian Premier League side Rubin Kazan in July 2010, they loaned him to Birmingham City in January 2011. He currently plays for Chinese football club, Shanghai Greenland Shenhua. Martins earns £95,000 weekly.
The former Super Eagles captain despite being out of the big spending China is the the second highest paid Nigeria footballers in 2019.
His prolonged Chelsea spell of 10 years or so earned him massive wealth and incredible recognition.
Mikel formerly played for Chinese outfit, Tianjin TEDA FC and they paid him a whooping £140,000 per week, which has an equivalence of 66.7 million in naira and $183,000 in dollars.
Mikel's current club is Trabzonspor and he earns similar figure there.
Odion Ighalo is a professional Nigerian footballer who plays as a striker. Born in Lagos and raised in Edo, Ighalo played in Nigeria with Prime and Julius Berger, where he was discovered by FIFA agent Marcelo Houseman who recommended him to Atta Aneke, being subsequently taken on trial by Norway's Lyn.
After Lyn, he moved to Udinese for a 5-year contract where he was loaned to Granada and Cesena. Ighalo also played for Watford and he's currently playing for Changchun Yatai, a Chinese club.
As it stands, Ighalo is the highest paid player in the Nigerian player goes home with a whooping £190,000 every week.