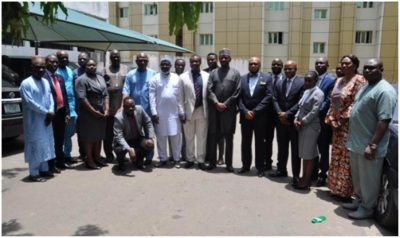 By Amaechi Agbo
The Independent Corrupt Practices and Other Related Offences Commission (ICPC) on Wednesday inaugurated the Anti-Corruption and Transparency Unit (ACTU) of the Nigeria Football Federation, NFF
At a brief ceremony that took place inside the NFF Secretariat, the Acting Chairman of the ICPC, Dr. Musa Usman Abubakar explained that the ACTU "is one of the strategies being deployed by the ICPC to monitor corruption and engender full compliance with transparency and accountability policies by Ministries, Departments and Agencies of Government."
According to a statement from the NFF communication department, the ICPC's speech was read on his behalf by a representative, Mr. Ota Okorie, an Assistant Commissioner.
The ICPC boss commended the NFF's role in "organizing domestic and international football which is crucial to the promotion of unity within the Nigerian nation and the world at large.
The ICPC through the ACTU seeks to implement a three –dimensional approach towards entrenching ideals in the workplace; as derived from its mandates of Prohibition and Prevention of corruption as well as enlisting and enlightening public servants on and against the ills of corruption."
President of the Nigeria Football Federation, Mr. Amaju Pinnick, who was represented by NFF 2nd Vice President/LMC Chairman, Mallam Shehu Dikko, said the creation of the unit sits well with the present NFF administration's vision and objectives of absolute transparency and accountability.
"When we came on board in 2014, one of the first moves we made was to ensure that our book –keeping processes were better done than in the past, and we appointed world –renowned firm, PWC as our auditors.
Our last audited account was certified good and even FIFA has commended our efforts in straightening processes and ensuring accountability.
"That was why we made all the effort to birth the ACTU in NFF. We all know that prevention is cure.
If anyone's going wrong in any process, the ACTU will be there to put him or her right. We see this as another milestone for our administration. Right processes are key for investor confidence."
While observing that a corrupt-free society is the goal of all good people, Dikko assured that the Federation would give ACTU all the support necessary to succeed in its work.
The NFF's ACTU chairman, Barrister Okey Obi, thanked the Federation for finding the members worthy in character and in person to serve in such capacity, pledging that the unit would serve the purpose for which it has been put in place.
Other members of the unit are Miss Ruth David, Dr. Christian Emeruwa, Mr. Wale Adeyinka, Mr. Rajan Zaka and Alhaji Magaji Abdullahi. Mr. Ayo Olu-Ibidapo is the secretary.