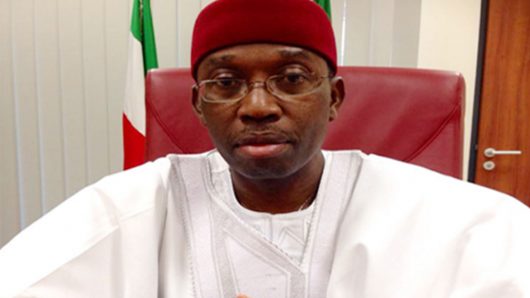 Monday Column by Emmanuel Yawe
[email protected] | 08024565402
His spotless and smooth baby face on top of his gangling athletic frame gives you the impression that he is a very young, innocent boy. You can never believe he is 59 years old.
But Ifeanyi Okowa is the unassuming man who has been in charge of governance in one of Nigeria's most cosmopolitan and wealthy states – Delta – since 2015. His climb to the top has been marked by a chain of solid personal achievements.
At the rather youthful age of 22 in 1981, he took a degree in Medicine at Nigeria's premier University at Ibadan. Born at Owa-Alero in Ika North-East Local Government Area of Delta State, he attended Edo College Benin City 1970-1976, before proceeding to study medicine at Ibadan. After leaving the National Youth Service Corps, he worked with the Bendel State Hospitals Management Board as a Medical Officer. He entered private practice as Director, Victory Medical Centre, Igbanke in 1986.
His political career started when he became Secretary to the Ika Local Government and then Chairman of the Ika North-East Local Government Council (1991–1993). He was Delta North Coordinator of the Grassroot Democratic Movement, (GDM). He joined the PDP in 1998 and assisted in Governor James Ibori's campaign in 1998/1999. He served as a Commissioner in the Delta State government for Agriculture and Natural Resources (July 1999 – April 2001), Water Resources Development (April 2001 – May 2003) and Health (September 2003 – October 2006).
Okowa resigned to contest in the 2007 PDP primaries for Governor of Delta State but did not succeed. In June 2007, he was appointed Secretary to the Delta state Government.
Okowa was elected Delta North Senatorial candidate in the January 2011 PDP primaries with 942 votes but the result was challenged by party leaders who favoured Mariam Amaka Alli as candidate. He was re-elected in a rerun where he scored 1,446 votes, against 108 votes for Dr. Maryam Alli. In the April 2011 election for the Delta North Senatorial seat, he won 98,140 votes, ahead of runner up Prince Ned Munir Nwoko of the Democratic People's Party, who won 67,985 votes.
On May 29, 2015, Senator Dr, Ifeanyi Okowa was sworn in as the fourth elected Governor of Delta state amid fanfare and expectations. That eventful ceremony was the product of his electioneering campaign which had the audacious promise of prosperity to Deltans predicated on his now famed S.M.A.R.T. agenda.
Last week, he introduced S.M.A.R.T to Editors who came to his state capital for the 14th All Nigeria Editors Conference as an acronym for;
• Strategic Wealth Creation and Provision of Jobs for all Deltans
• Meaningful Peace Development Platforms for Political Social Stability
• Accelerated industrialization and agricultural reforms
• Relevant Health and Education Policies
• Transformed Environment through Urban Renewal.
"Driven by prudence, fairness, fiscal discipline and team work amid dwindling resources and global economic challenges, we have kept faith with the electorate in more than three years of governance", he told the assembled Editors.
He said his government believes that job and wealth creation is the fulcrum on which the SMART agenda will be assessed now and in the future. Early in the life of the government, a Job Creation Scheme with the mandate to do the following: equipping youth with technical know-how and vocational skills; support and mobilise already existing smallholder agricultural producers, agro-processors and value chain service providers; mobilise and facilitate strategic private sector agricultural investments that create jobs along the agricultural value chain; enhance the employability of unemployed graduates of universities, polytechnics and colleges by improving their job readiness and promoting graduate employment through enterprise incubation support for cooperating groups of unemployed graduates.
The scheme according to him has yielded positive results as by May 29 2018, 14.841 youths were trained and helped to establish enterprises of their choice.
Secondly, the government he said embarked on Meaningful Peaceful Development Platforms for Political Stability. "In the wake of renewed militant activities in Niger Delta, with attendant destruction/vandalism of oil and gas facilities, leading to downturn oil production, which invariably led to loss of revenue for oil bearing states, my administration set up a nine-man Advocacy Committee Against Vandalism of Oil and Gas Facilities headed by Deputy Governor Kingsley Burutu Otuaro", he revealed.
He said the Committee recorded instant success. In the first month of its operation, there was cessation of the spate of bombings of "critical oil and gas facilities in Delta State and Relative Peace was achieved."
"A second feat recorded within the first month of inauguration was securing the repair work at the vandalized Forcados Export Terminal. Ensuring the repair activation of the export line meant a higher level of crude export for national economy and Delta State" Governor Okowa stated.
Under Agricultural Reforms, he said his government has introduced two major reforms – the Youth Agricultural Entrepreneurs Program (YAGEP) and the Production Processing and Support Programme (PPSP). Under these schemes, the youth are trained in subject matter knowledge, enterprise management, leadership and life skills, group organization and group farming.
"Participants are supported to establish and run their own enterprises through the provision of starter packs which in the case of livestock include livestock houses, operating facilities, amenities and inputs", he told the Editors.
On education, he said the thrust of his governments policy is on technical and vocational education with emphasis on skills acquisition over certificate acquisition. Six technical colleges and nine vocational skill centres in the state have been rehabilitated and equipped while the government has continued to invest heavily in infrastructure upgrade of our primary, secondary and tertiary institutions. In the health sector, he said Delta is the first state in the country to launch Universal Health Coverage with the establishment of Delta Contributory Health Commission.
But it is in the field of Urban Renewal and Road Infrastructure that Ifeanyi Okowa has excelled. Three years after he assumed office, 264 roads were embarked upon. A significant percentage of the roads are purposely located in the rural areas and facilitating the movement of goods and services in and around Delta State. The Editors were later taken round to see the roads which have been supported by large surface and underground storm drainage facilities to reduce the devastating effects of flooding and ensure the durability of the roads.
It is the landmark achievements of Ifeanyi Okowa in the road sector that has earned him the sobriquet- the Road Master.