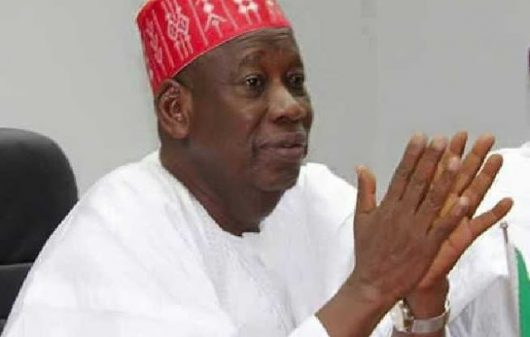 By Musa Adamu
Governor Umar Abdullahi Ganduje of Kano state has said he was not a nomadic politician and won't join his ally Sen Rabiu Kwakwaso in the Peoples Democratic Party, PDP.
Ganduje who was responding to a question on whether he would not miss his longtime political ally, Sen Rabiu Kwakwaso, who is now a member of the opposition PDP as 2019 general elections draws near said :
"When we were in the PDP he took into the APC and now he wants us to abandon the APC for PDP again and we say no; we are not nomadic politicians."
He spoke in Abuja while fielding questions from Journalists after attending an event organized by Savannah Centre.
Ganduje said his predecessor could not have remained in the APC because he had realised that there was no way he could achieve his ambition ruling the country on the platform of the party.
"We all knew he was going to move because it became clear to him that there was no vacancy in the APC for him to run for the presidency. In 2014 he left the PDP because the then incumbent, President Jonathan, was also and so upon joining the APC he ran against then Gen Muhammadu Buhari. Now that PDP has no incumbent gunning for the seat, it is only natural for him to feel drawn to the party."
He restated that the APC would not miss him as Kano state was for both President Buhari and the party.
Ganduje, however, said as human he would surely miss Sen Kwakwaso having come a long way together as their political history was that of mutual benefit.
Speaking on the possible effects of the gale of defections that hit the APC recently, Ganduje said the development was good for the party since it had cured it "anti-party tendency."
He said the defections had left the APC more like "an assemblage of like mind," that that of " convenience."
He said it was natural that as the general elections draws near alignment and realignments would take place as people scout for platform to achieve their aims.