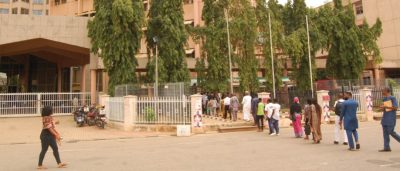 By Stanley Onyekwere
In an apparent twist of event, the Coalition of FCT Indigenous Associations, the umbrella body of all the indigenous organisations, have come out to commend the FCT Minister, Malam Muhammad Bello, over what they described as "impactful leadership" exemplified by the Minister.
Recall that the group had before now mounted myriads of criticisms on social media platforms to showcase the poor performance of the FCT Administration under the leadership of Malam Bello.
However, the group in a press statement signed by its spokesperson, Comrade Yunusa Ahmadu Yusuf, stated that "this commendation by the indigenous people's mouthpiece is not a backslide or twist of action against the usual criticisms often raised by the umbrella body when the need arises".
He said: "The criticism is an affirmation of our democratic position of being the dispenser of unbiased checks between the government and the governed as allowed by the constitution of Nigeria.
"However, driven on the heels of this reality, the Coalition body will not fail to recognize and rain accolades in the midst of criticisms on the Honourable Minister of the FCT in certain areas of excellence achieved by his administration since assuming office.
"We applaud the current leadership of Mal. Muhammad Musa Bello. No doubt, it has displayed some high level of administrative astuteness and sense of responsibility using tact and wisdom in tackling a myriad of prevailing challenges faced by the natives."
While citing some of the achievements recorded by the Bello's led FCT Administration, Yusuf noted that the Gosa market dispute resolution, prompt intervention by nominating an indigene to a supervisory role and recruitment of indigenes into various government agencies are worthy of commendations.
The statement further stated, "The Minister on assumption of duty in 2015, immediately took up the responsibility of ensuring that personnel welfare issues became a priority, as he believed this would enhance productivity and smooth efficient delivery of duties among workers. Workers salaries are now timely paid when due.
"Most commendable of all is that, he has piloted the smooth functioning of the FCTA by ensuring consideration based on seniority in line with extant civil service rules during appointments and promotions of key management staff.
"This, in every sense and honesty, has increased personnel confidence as they are assured of progression to the top echelon of their chosen careers in the FCTA, irrespective of their ethno-religious disposition.
"The foregoing, has positively affected indigenes who have enjoyed these progressions and have made it to the top management level based on merit and seniority as made possible by the Minister."
The group called on the minister to sustain this policy of appointments and promotions based on merit and seniority especially as it pertains the indigenes who are duly qualified for these positions, just as he tasked the minister to address the issue of unemployment of suitably qualified indigenous youths in various agencies of the administration.