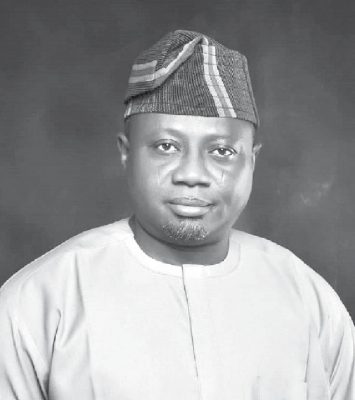 Hon. Olajide Olatubosun of Atisbo/Saki West/Saki East federal constituency in the House of Representatives in this interview with People's Daily, warns that profiling the Fulani ethnic group as criminals is a dangerous development for the economic development of Nigeria. The lawmaker argues that the government does not have to conduct fresh summit but must act fast to stem the tide of pervasive insecurity across the country. Lawrence Olaoye was there.
Recently, ex-President Olusegun Obasanjo wrote an open letter to President Muhammadu Buhari on the state of the nation recommending dialogue, what's your take on this?
Obasanjo is an elder statesman; he has been a military Head of State, a civilian President and I think that when he talks, politics apart, there are things that should be taken seriously. In security is becoming pervasive and all of us are living in danger. Our President, Muhammadu Buhari, is doing a lot but the best is not good enough because Nigerians are either kidnapped, adopted, killed on daily basis so something has to be done urgently.
What do you say to the suggestion that a dialogue be conducted considering the fact that there have several in the past, the latest being the 2014 Constitutional Conference?
With due respect to the former President, let me humbly submit here that I don't think that we should be talking about any summit again.
We have had so many conferences, summits, meetings, where are the reports? For me it is time for action and whatever we need to do must be done in the immediate. How do you ensure that lives of Nigerians are protected? That is the primary responsibility of the government:
security and welfare of the people. I'll not subscribe to sitting down for a summit now. Our Police and other security agencies, why are they not performing optimally? Can we quickly look into those issues?
Issues like community policing. If you can put together a framework in the short to medium terms to ensure that intelligence gathering becomes more effective and Nigerians that will be deployed to such departments (Community Police) be recruited from the areas they are to serve. I think with that we can improve intelligence gathering and ensure that our police are more effective.
There is a development where Fulani herdsmen are being profiled as dangerous. What do you think should be done to reverse this perception?
Ethnic profiling is very dangerous. Unfortunately, it is gaining ground in our country. What we are doing now is called road to Kigali.
We have to stop ethnic profiling now because in nations that it had happened before the consequences are always very severe and I want to appeal to the executive arm of government, in the 90s we have what's called MAMSER where Nigerians were mobilized in policies, Nigerians were mobilized for their patriotic duties. They see themselves as one entity. We now have a body called the National Orientation Agency (NOA), that is the body that succeeded MAMSER but we are not hearing anything from them. We need to ensure that NOA becomes more proactive. Their job is to educate Nigerians. We are not saying that we have a perfect federation, Nigeria is a work in progress and all ethnic groups must learn to live together in peace.
If there are issues of insecurity, let us address them headlong. We must stop ethnic profiling. We've gotten to a point that Nigerians must have to find a way to live in peace.
What's your reaction to the Northern Elders Forum (NEF)'s call on herdsmen to quit the south for the north for their safety?
I see that as adding salt to injury. Thank God that the President, being the father of the nation, has issued a statement that our northern brothers in the south should disregard the call. It is a call that can set the country on fire. Like I said, if there are issues of insecurity we should come together and address them.
How will you react to the call for community policing to address insecurity in the country?
In the short to medium term, we need to institute the framework for community policing. In the United States, you have the State Police, County Police, a City Police. We have issues with our state police because it has to go through constitution amendments. Under the current Nigerian Police structure, let us have a section or department for community policing. What we should do is that people or officers that will serve in the department should come from the locality they are to be posted.
So if all the police officers in the community policing department are going to work in my town or constituency are from that same constituency they know that their job is to ensure that their brothers, sisters, uncles, children are safe. Community policing is the way to go for now. Whatever we need to do must be done fast because we don't have time. People are being abducted everyday.
The same weekend that Funke Olakunrin was killed along Ore road in Ondo state, Senator Abbo's uncle was killed, step mum was adopted; we have similar things happening in some parts of Rivers state. We cannot continue like that. Something must be done urgently.
Some persons are blaming social media for the propagation of hate speech and are calling for its regulation. Will you subscribe to this?
Some people will argue that regulation will infringe on people's fundamental rights of freedom of speech and expression but I don't believe in freedom without limit. The challenge now is that on social media, everybody is a journalist. If you have a right, the right must come with some responsibilities. So, inasmuch as I do not subscribe to anybody's rights being abridged, because in a democracy it is guaranteed by the constitution, those rights must come with responsibilities. Social media users must know that they are not supposed to be forwarding videos, visuals and stories that can heat up the polity unnecessarily.
There have been allegations in some quarters that some criminalities are traceable to politicians desiring to settle political scores. How true is this?
Politicians are the most vilified set of Nigerians. If somebody's child has fever, it's a politician; if somebody's wife has headache, a politician has caused it. This is a Nigerian problem and we should not start profiling politicians. Let's allow the security agencies do their job. Somebody called Evans was arrested in Lagos. He's a leader of a vicious kidnapping gang. One would be wondering who was behind the gang until Evans was picked up. Nigerian politicians are responsible people.