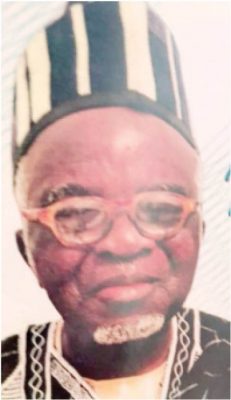 Monday Column by Emmanuel Yawe
[email protected] | 08024565402
It is the story of hard work and patriotism; a story of a man who gave and is still giving his best in a system that hardly recognizes hard work and commitment; a story of how a landlocked state in Nigeria became the food basket of Nation; the story of Joseph Iyorshe Orgudwem, the unsung eighty year old hero.
Born on January 10 at his remote rural home of Mbaanku in Mbatyav ward in the then Tiv Native Authority in Benue Province, Orgudwem braved the odds to acquire western education. It was a rare feat when western education was looked upon with scorn because it was considered a vocation for the lazy who did not want to do backbreaking farm work but simply loaf around.
At the age of ten in 1950, he enrolled into a Primary School in Gboko which he completed in 1956 thus acquiring the First School Leaving certificate. There were very few academic and or career opportunities in Tiv land those days. After three years of obtaining his first certificate, the young lad got enrolled into a Farm Training Centre, now known as the Akperan Orshi College of Agriculture Yandev. He received his basic one year training as an Agriculture Instructor at the center. Subsequently, the Tiv Native Authority integrated him in their system as an Agricultural Assistant.
Not content with the lowly position which his equally lowly education qualified him for, Iyorshe Orgudwen aspired for greater heights. Between 1964 and 65, he enrolled at the School of Agriculture, Samaru Zaria. But after the certificate he acquired there, he aspired even higher; he enrolled for his General Certificate of Education, (GCE, O Level) at the University of London in January 1968 and successfully completed the course in January 1969. By this time, his persistence in not only working hard but acquiring new skills through additional educational qualifications brought him to the attention of his employers. From the lowly position of Agricultural Assistant, he was promoted to Assistant Agricultural Superintendent in 1970. The promotion did not arrest or quench his thirst for better education. In July 1973, he enrolled for a Higher National Diploma in Agriculture at the Ahmadu Bello University College of Agriculture in Kabba, present day Kogi State. It was a one year program and by 1974, he had the qualification in his bag.
These qualifications equipped him with the intellectual skills to rise up to the challenges of his employers – the Tiv Native Authority Agriculture department. Rising from the rather lowly rung of the ladder as an Agricultural Assistant, he became an Assistant Agriculture Superintendent and Senior Agricultural Superintendent, in many stations of the Native Authority and finally, Deputy Head of Agriculture Department in the whole Tiv Native Authority.
By 1976, Iyorshe Orgudwen had seen it all in the department. He was appointed the Head of Agriculture Department in his home Gboko Local Government which emerged after the giant Tiv Native Authority was split into many Local Governments. In that year, he took a plunge into politics.
As part of the transition to civil rule program of the Murtala/Obasanjo government, local government elections were held that year. There were no political parties so the Councilors were to be elected on individual merits. The councilors then sat in council and elected one of them to be the chairman. Orngudwem jumped into the ring to represent his people as a Counselor. Once he got himself elected as a Counselor, he joined the race for Chairmanship. There were 22 counselors who constituted the Electoral College. He got majority votes. The other contestants shared the remaining votes and he was declared Chairman. Years of prudent and selfless service to his people gave clear testimony and he emerged as a Chairman of the most strategic Local Government in Tivland – Gboko, where the Tor Tiv, the paramount ruler of all Tiv people holds court.
Iyorshe Orngudwem started his career in agricultural work at the time Nigeria gained independence. He worked mostly with grassroots people in the rural areas. The people on the other hand saw his selfless service and the prudent way he committed himself to his assigned duties. It was therefore natural that when he needed their votes to chart a new course in politics, they gave him freely.
More fundamentally, as the pioneer practitioner in modern agricultural methods, he and his peers were very instrumental in introducing the measures that turned agriculture into an all-time occupation of the Tiv people. He remembers the many years they spent as pioneers of modern agriculture at the agricultural centers. Here as a deliberate policy to lure farmers into new farming methods – they distributed fertilizers free and gave out tractors to farmers at highly subsidized rates. These practices brought a revolution in agriculture not only to the Tiv people but Benue state as a whole. It explains why Benue has become known as the "Food Basket of Nigeria". Today he looks back with regret that some of the things they did to improve agriculture in Benue state have not been followed up.
As the chairman Gboko Local Government (it is today split into three local governments – Gboko, Buruku and Tarka) he continued to do his best not only in improving agriculture but in improving security in the area. It is on record that for the period he served as chairman 1976 to 1979, crime was brought down to its barest minimum.
Since stepping down from full time public service, he has consistently offered himself for service in cooperative organisations, especially the ones that deal with agriculture where he offers free advice on a range of developmental issues. Sometimes he plays some political roles. At a point between 2007 and 2011, he was even appointed the Chairman Benue State Civil Service Commission.
At the ripe age of 80, Iyorshe Orngudwen spends most of his time in his home village of Mbaanku in Gboko Local Government. Still, he continues to impart the knowledge he gained from his years of experience as an agriculturalist and a politician to all that come to him in search of it.