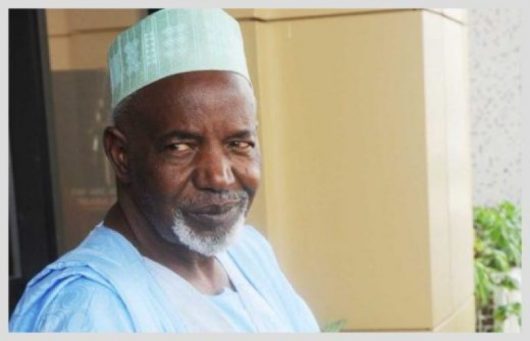 From: Femi Oyelola, kaduna
Former Governor of old Kaduna State and Immediate past National Chairman of the Peoples Redemption Party (PRP) Alhaji Balarebe Musa has said that the coming on board of immediate past Chairman of the Independent National Electoral Commission (INEC) Professor Attairu Jega into the party is a welcomed development.
The elder statesman who is now the Chairman of the Board of Trustees of the party however said, the party must view his coming into the party with care and caution.
According to Alhaji Musa who bared his mind while fielding questions for members of the Nigeria Union of Journalists (NUJ) Kaduna State council who paid him Sallah homage at his Kaduna residence, said his position was premise on the fact that it was under the Chairmanship of the former INEC boss that the party was deregistered before it was re-registered on court orders.
Recall that only recently, Professor Jega was announced as the Chairman of the SWOT analysis committee of the PRP whose mandate is to critically examine the strength of PRP, its weaknesses and the opportunities available to the party as well as threats to its existence and wellbeing.
According to a release which was signed by the National Publicity Secretary, Alhaji Abdul Gombe, the decision to constitute the committees was reached at the party's 62nd National Executive Committee (NEC) meeting which held in Kaduna, adding that the committee is also to recommend to the party strategies to adopt for its survival and growth.
He said, he is not prepared to discuss the issue on the pages of papers but would rather meet with the National Executive Committee (NEC) of the party to take an holistic view of the whole matter on the.new entrant into the party.
On his Sallah message to Nigerians, the elder statesman called on Nigerians to unite, reconcile for peace and progress of the country, while acknowledging that the challenge of nation building is enormous and the need to address it imperative.
"Therwbia so much negativity in the system, we need peace and progress, all hands therefore must positively be on deck to achieve it.