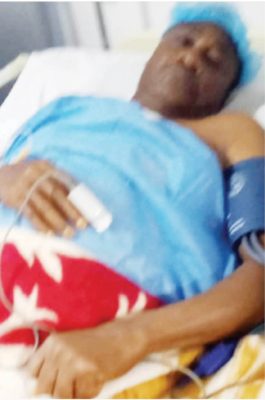 By Amaechi Agbo
Former Super Falcons coach, Kadiri Ikhana will undergo a second surgical operation towards restoring his hip to normal position today, Bestchoicesports.com.ng can report
We gathered, at the time of this report that the surgery is due for either today or Thursday.
A source close to the former Kano Pillars coach said on phone Wednesday that "We are in the hospital now for check-up. Possibly the second operation would be carried out today (Wednesday) of tomorrow.
"The coach has recovered pretty well from the first surgery so the second one is dependent on doctor's advice. Everything has been going on smoothly and we thank God and Nigerians for their prayers and support.
Coach Kadiri Ikhana is expected to undergo three different surgeries at Aliiance Hospital Abuja to correct his ill hip.
The first surgery was successfully conducted by the medical experts in the hospital late last month.
Speaking on his experience during the ailment recently, and the surgery so far, coach Ikhana said the surgery was his first experience and he felt he would not make it. He nonetheless thanked the hospital and Nigerians for their support.
"This is the first time I am going through surgery and what I saw, I did not expect it. I thought it is something that will even kill me but I am happy it went through successfully. You can see me talking now very sound. Before the surgery, I cannot talk this way. My voice was very low. I think I can talk better now.
"First of all I want to thank Alliance Hospital because if not for them, maybe I will not be here. Maybe I would be languishing at home. When I was offered this treatment free of charge, I was almost shedding tears. There are one or two things that I want people to understand that it is not just hip surgery.
"After the MRI, they found out that the two hip bones are bad and my spinal cord has been affected. And it appears the cost is too huge on the hospital to bear alone. We are talking about N10 million.
I want to use this medium to appeal to all Nigerians that they should come and assist me in my trying period. At the same time, I want to also thank Nigerians because I never knew that I am being loved this way. I never expected it at all. What I am seeing, I am overwhelmed. It gives me more life. Even it made me get better before the operation. So I want to thank everybody, either young or old, those we called, and those who sent money.
"And especially to Victor Moses. We never met before, he only had about it and he immediately responded with a million naira and said I should use it for my treatment. He is a fantastic human being. May God also be with him.
"Nigeria once more, thank you very much, I really appreciate," he had said after his first surgery.