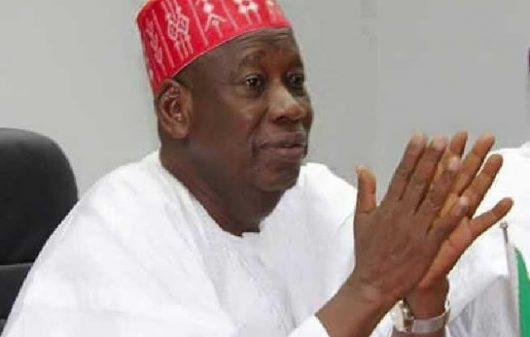 From Mustapha Adamu, Kano
The Governor of Kano State, Abdullahi Umar Ganduje, has said that he is ready to invite other gubernatorial candidates in the state to Government House for peace talk.
Ganduje stated this, at the signing of Peace Accord, alongside other gubernatorial candidates, ahead of the forthcoming general elections, held in Bayero University Kano, yesterday.
According to him, as a Chief Security Officer of his state, it is indispensable for him to maintain peace and stability before, during and after the elections, saying, if he get the opportunity, he would like to invite his opponents to the state House to discuss on how the Peace Accord would be maintained.
Ganduje, who is the governorship candidate of the ruling All Progressives Congress (APC) in the state, told the opposition parties to feel free to forward suggestions to his government wherever they feel it went wrong.
"I am very happy with this Peace Accord. It is my priority as governor, Chief Security Officer and leader of our great party to ensure peace, harmony and stability in this state before, during and after the forthcoming elections.
"This is why I strive to ensure internal democracy in our party. To ensure all members of the party respect one another. I also ensure our party members respect our opponents. This is why whenever we are going to stage a campaign rally, we make sure none of our supporters go out with a weapon," he said
Ganduje added that, " If i get the opportunity, I would want to invite my opponents to converge at the government House to discuss on how to maintain this accord.
"I appeal to you to come to the state House, it is your house. Come and discuss on strengthening this peace accord. Give us suggestions on where you feel we go wrong, " Ganduje appealed
Speaking earlier, Emir of Kano, Muhammadu Sanusi II, cautioned politicians against engaging in election malpractice.
According to him, peace would not reign if politicians do not stop taking politics as a do-or-die affair, blaming the political actors of orchestrating rigging and other election malpractice while the election bodies are being held responsible.
Our correspondent reports that, Ganduje, alongside 28 other candidates signed the truce, organised by Kano Election Peace Committee.
The peace accord signing was supervised by former Head -of -State and Chairman, National Election Peace Committee, Gen. Abdulsalam Abubakar (rtd) and Special Representative of the United Nations Secretary General, Dr. Muhammad Ibn-Chambas.