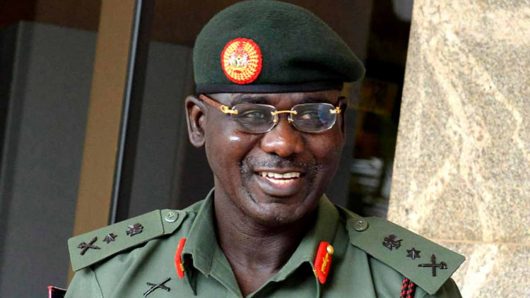 By Ese Awhotu
The Chief of Army Staff, COAS, Lieutenant General Tukur Yusufu Buratai has said there is no going back on the court martial of army officers who compromised in the recent protest and shooting at the Maidiguri Airport in Borno State.
Buratai, made this declaration yesterday during an interactive session with media executives in Abuja.
He said, "The issue has been thoroughly investigated and all those involved will be brought to book. All those sabotaging the efforts of the army will be court martialed along with military laws."
"We will not allow such incidence to take place again," he added.
Buratai disclosed that, the army has already court martialed some personnel found to be sabotaging military efforts at tackling insecurity in the country.
He warned that the army will not condone any act of indiscipline.
Recall that the army had announced that it would set up a General Court Martial (GCM) to try Special Forces who embarked on a protest at the Maiduguri Airport.
Military authorities had since confirmed the protests and indiscriminate shootings at Maiduguri International Airport by some soldiers deployed to Marte Local Government Area of Borno State to fight Boko Haram terrorists.
On the Boko Haram fight, the Chief of Army Staff said he has directed another sustained campaign focused on community stabilization to be conducted to counter the negative narrative and ideology of Boko Haram terrorists.
He explained that, "community stabilization is a measure of sustained ability of a community to utilize available resources to respond to, withstand and recover from adverse situations. It is also a means where communities stand up as a collective entity to resist whatever is discovered alien to their beliefs, culture, traditions and way of life.
Buratai, said that the army would collaborate with government Ministries, Departments and Agencies, MDAs, security agencies, humanitarian and civil society organisations as well as other stakeholders in this regard.
He solicited the support of the media, other stakeholders and well-meaning Nigerians at this crucial stage in the fight against insurgency.
Buratai called on Nigerians to join hands with the Nigerian Army to collectively build and take this nation forward.
On the establishment of an army university, the Chief of Army Staff said the project is taking shape and the army is collaborating with the National Open University of Nigeria, NOUN, and the Joint Matriculation and Admission Board, JAMB.
In a brief remark at the event, Adamawa state Deputy Governor, Mr. Martins Babale who represented the Governor, Senator Muhammadu Bindow Jubrilla commended the army saying they have done very well in the fight against insurgency.
He said the Boko Haram terrorists had intended to destabilize Nigeria but the military efforts have made this impossible.