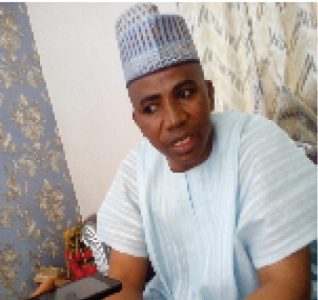 Alhaji Bello Abdullahi Bodejo, National president of Miyetti Allah Kautal Hore, a Fulani socio-cultural association, says his life is now under threat for challenging the anti-grazing law in Benue state.
Bodejo, in this interview with selected journalists in Abuja, decried how lingering herdsmen/farmers crisis has been politicized. He however declares the association's readiness to support the Federal Government Cattle colonies policy. Our correspondent, Stanley Onyekwere was there.
What's your take on the recent episode of herdsmen and crop farmers' crisis in Benue state?
The issue is a long time thing; it didn't start recently. But the only thing that is worrying me now is these threat I'm facing. I'm trying to just make the people understand how they can stay safe in their communities. We are trying to protect interest of the Fulani people, especially now that we are facing a serious threat. Since this recent Benue crisis started, I have been facing serious threat- as I have been receiving text and phone calls threatening to kill me. So my life is in danger. But I have been telling my brothers and sisters about the situation. The threat I'm having gives me sleepless nights, people called me that they are going to kill me if I did not withdraw the case from court. That is why am calling on security agencies to protect me, am just protecting the interest of my people.
Ever since when the country moved from Military era to civilian administration, a lot of things have been happening between Fulani herdsmen /Farmers. As a Fulani man, I rear cow and I tried to learn a way of ranching my cow for over four years now and also sensitized my people on how to do the ranching so that they would be peace in the country but politicians have hijack the whole processes for us, thereby causing a lot of crisis in between. They started gradually with embassy militia in Nasarawa, Agatu militia and Fulanis in Benue, in Taraba you will hear Jukun and Tiv and in Zamfara, the crisis started with Vigilante and another groups, but with all our efforts, the association have partner with the security agencies and we visited some states for the purpose of peace to reign in 2014, but since the inception of President Muhammadu Buhari, the politicians that lost election in 2015 have decided to tarnished the image of the administration by causing crisis and tagged it to be Fulani herdsmen, if husband and wife is fighting, the politicians would turn it and made the whole world understand that it is Fulani herdsmen. They are doing this to discredit Buhari's regime so that they would said there is no security in Nigeria. All this desperate politicians that were not born then when there was real herdsmen/farmers crisis in those days are the ones causing confusion in the country just to spoil the government of the day.
Benue State Governor, Samuel Ortom have been asking for the immediate arrest of Miyetti leaders over the controversies trailing the Anti-Open Grazing law. How would you react to this call?
I'm already giving any governor support needed to succeed in the administration of the state. And we are ready to give all the support that the security agencies require to ensure restoration of peace. This is because if there is no peace in the society, we won't feel safe living in the villages, where there is no conventional security cover for the people. So we need peace, because all our activities are carried out inside the bush. We need peace in the country. Therefore, if Governor Ortom looks for us, to see how we can help resolve the issues, we will gladly do so. After all, he is the executive governor of the state, and he is one of the leaders of the country, I we have enormous respect for him. It is just small misunderstanding that is causing the problem, and people are wrongly advising Governor Ortom to be doing and saying the things you are highlighting now.
But, your association has been accused of issuing threats to people over the implementation of the Benue grazing legislation. How true is this?
I know we organized a press briefing where we made our position know when the controversial anti-grazing law was being promulgated. We tried to see the governor, but he refused to receive us. At that time, we wanted to see and give him advise on the issue, but he did not listen to us. At the end of the day, they told us that we don't have a member in Benue, that we are only in Abuja; that we are politicians, thereby nothing should concern us. That's why we told the world during the press conference that the law was not acceptable to us, as it infringes on our constitutional rights. We are Nigerians, and we have rights enshrined in the country's constitution, which is supreme. So we don't need that controversial law. There can't be two constitutions in one country; it would only breed confusion in the land. But we didn't issue any threat over the matter. We don't have any power to do so. We said we don't need the law, and we headed to the law court to help intervene. And somebody who turn to the court to enforced his right, clearly needs peace, not violence. We said we don't need the anti-open grazing law, and we went to court and challenged it. So, I'm surprised that people are accusing of us of issuing threats over the issue. I repeat that at no time did we issue any threat to people in Benue and any part of the country. We asked the Vice President, Osibanjo (then the Acting President) through a letter to intervene in the matter, by prevailing on the state governor. Because, Governor Ortom should know that he is the executive of the state, this means he is in charge of the affairs all people, not a certain group in Benue. The Agatu people are there; Hausas, Fulanis, Igbos and Yorubas are there- everyone is there. So I wonder why they can make law against the core interest of the Fulani's in the state. In fact, the herdsmen and crop farmers' problem is a national issue, it is not only a one state matter; hence it calls for a holistic policy to handle it effectively. And it can start at the federal level.