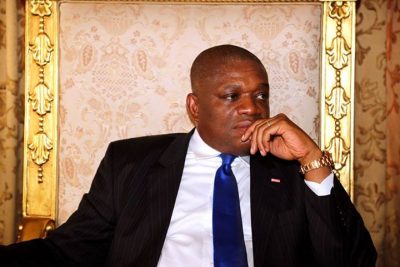 By Ese Awhotu
A Federal High Court sitting in Lagos has revoked the bail granted to former Governor Orji Uzor Kalu of Abia.
Orji Uzor Kalu, who is facing a N7.65bn fraud charge, was granted bail in 2007.
However, Justice Mohammed Idris yesterday revoked Kalu's bail for failure of the ex-governor to appear in court for his trial.
Recall that last week, the ex-governor's lawyer, Prof. Awa Kalu (SAN) told the judge that his client had gone abroad for surgery and so could not appear before it.
As a result of the development, the trial of the ex-governor was stalled. The case was, therefore, adjourned till November 12, 2018 for continuation of trial, but Kalu failed to appear before the court.
It would be recalled that the prosecuting counsel for the Economic and Financial Crimes Commission, Mr. Rotimi Jacobs (SAN), had said he was not aware that Kalu sought the court's permission before travelling to Germany. He, however, noted that the ex-governor deposited his passport in the court's custody.
Jacobs consequently urged Justice Idris to declare that Kalu had jumped bail and absconded.
In a ruling, Justice Idris ordered Kalu to return to Nigeria within seven days and make himself available for his trial on Monday.
In his ruling, Justice Idris revoked Kalu's bail. "In the circumstances, I'm constrained to revoke the bail granted to the first defendant," Justice Idris ruled.
The judge ordered Kalu to submit himself to the EFCC within 24 hours of his return to the country from Germany. He also ordered the EFCC to arrest and detains the ex-governor if he fails to submit himself to the anti-graft agency within 24 hours of his return.