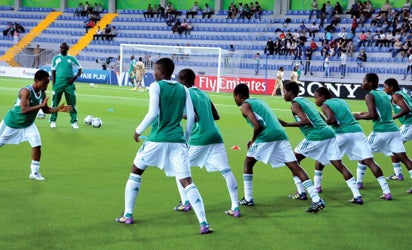 By Amaechi Agbo
Nigeria Football Federation, NFF has named Olowookere Bankole as the coach of Nigeria national U-17 women team, the Flamingos.
Although his appointment has not been made public, it gathered that the Ekiti State born tactician has resumed duties with the team along with his backroom staff.
Coach Bankole will be assisted by Queen Akpan, who is based in Abuja and a goalkeeper trainer, Atuga Ndanusa who was formerly with Niger Tornadoes of Minna.
Coach Bankole was former coach of Lagos based female club, Dream Stars Ladies who played in the Nigeria Women Premier League last season.
It was gathered that Olowookere Bankole was discovered by Barr Seyi Akinwunmi, NFF 1st Vice President.
Bankole was appointed coach of Lagos football team at the 2012 National Sports Festival, NSF, tagged "Eko 2012" .
As early as August 2019, Bankole was regarded as one of the favorites to manage the U-17 Flamingos.
Coach Queen Akpan on her part is with Abuja Women All Stars.
meanwhile Flamingos technical crew Sunday drafted list of 41 players invited to resume camp in Abuja Monday ahead of the team's FIFA U-17 Women's World Cup against Guinea later this month.
The players, our correspondent gathered, started arriving Abuja on Monday although some hitches have made it that some are yet to arrive the camp.
In the list scooped, a total of 6 goalkeepers, 13 defenders, 7 midfielders and 15 attackers are invited by the technical crew.
It was further gathered that the technical crew of the team will further invite another batch of players by next week with a view to discovering and finding the best legs for the two-leg encounter.
Below is the full list of the invited players and their dates of birth
GOALKEEPERS
Unamba Augustina, Ekeh Nelly Chukwebuka, Amole Damilola, Odinaka Nwacke, Egwin Favour and Perpetua Osinachi
DEFENDERS
Ogbuchi Chidinma Juliet, Shadrack Onumeze, Nnaocha Linda, Kalu Chinyere, Ihuima Chinyere, Ohacri Miracle, Precious Taiwo, Nwakwolan Marry Ifuoma,
Aderemi Mary, Idowu Kuku, Onwere Oluma, Blessing Green and Eretan Ireti
MIDFIELDERS
Maryam Ahdulkabir, Yusuf Mistura Motunrayo, Shobowale Olushola, Abiodun Deborah Ajibola, Odoma Cordelia Amarachi, Esther Inyang and Onyenezide Esther
ATTACKERS
Rofiat Imuran, Opeyori Foluk, Oladipo Shukura Damipola, Samuel Oluwayemisi Osanyijobi, Dahz Alvine James Ogechi, Azama Zepere Kefeghe, Yusuf Hannah Goodness, Oluchi Okwara, Opeyemi Ajakaye, Deborah Abiodun Chukumalem Kelechi, Owoeye Temilope, Jennifer Alani, Jumoke Victoria and Yemisi Samuel
Nigeria will play Guinea away in the first leg of the first round on the weekend of 28 February to 1st March while the return leg will hold in a yet to be determined venue in Nigeria during the weekend of 13–15 March 2020.