Otunba Segun Showunmi is a chieftain of the Peoples Democratic Party, PDP, in Ogun State and erstwhile Media Adviser to former Vice President and presidential candidate of the PDP in the last general election, Alhaji Atiku Abubakar.
In this interview with our man, LATEEF IBRAHIM, the former PDP gubernatorial aspirant in Ogun State faulted what he called the overbloated number of the ministers appointed by President Bola Tinubu and the various crises that had so far bedevilled PDP among others. Excerpts:
Q: Since the PDP lost at the center, during the poll of 2015, a lot of water has really passed on the bridge. There is a section of the public that believed that from what they have seen between then and now, that PDP is its greatest enemy. What's your reaction to this?
A: Well, first of all, it is true that people feel that an organization or a party as big as PDP, with is history, might have been able to manage things better, they are not totally wrong.
But there is only one aspect I want to add to it, which is that we must first of all accept that a political party is a meeting place for many unfamiliar human beings, who are all coming for their interests. And that sometimes it takes a lot of years for the culture of group to supersede the idea of self.
And so, we can always do a review after an event to say clearly that if this or this and this did not happen, this or this or this would have happened. But at the material time, when those things are happening, sometimes people are just unpersuadable, if you feel you are right.
And you feel you have not been treated well. The reactions of the human beings can be very dramatically different, especially given the type of opportunities capacity, power and reach they have. Some people can accept it in good faith. Some people because of the nature of politics and the struggle for power can go all the way to try to get a redress. And in some very, very terrible cases, there will also be vengeance. Take the case of 2014/2015, the circle, for instance. It is easy to see that because of the death of Umaru Musa Yar'Adua, our then President of blessed memory, a lot of people allowed the one extra term between 2011 and 2015, for the beneficiary of his death, which was then Vice President later President (Dr Goodluck Jonathan), and they felt, above all else, that that tenure ought to be reversed to the North, may be the North producing a candidate and all that, since it appeared as if President Obasanjo,  Southern, had done a two-term of  eight years, Yar'Adua, our President, had died under two years, a southern Jonathan had completed that term,  a Southern Jonathan had been given an extra term in his own right between 2011 to 2015. Then, all hell broke loose because the justice system had to be on their way. They went over and above themselves, to partner with others, to start the coalition that now became APC. How do you say they are wrong? And how do you say they  are right? It is a question of only hindsight and how they got treated and how those who left now started coming back and all that. It is only hindsight that can make even they themselves wonder whether would it not have been strategically in their best interest to have stayed and allowed the whole process to go through and probably then tried some other things. So, if you come back to 2019, with profound respect to the sensibility of others, history is history.  We believe strongly that the integrity of the 2019 election did not leave us with any doubt that Atiku Abubakar won that election and we could tell you that this is where the manipulation took place.
Now, if you see that we were a little coercive. We could have been more coercive because I mean, if you lose President  Olusegun Obasanjo who was a two-term President under the PDP, who was not even on board as he should have been, if we lost former President Goodluck Ebele Jonathan who was not on board as he should have been, but at least, there was better cohesion and we thought we were hard done by that process. But if you flip back to 2023, the 2022/2023 scenerio,  we had another problem, which had a different dimension. The first dimension of that problem was President Muhammadu Buhari. What was happening with our neighbor? A northern man of Fulani extraction, was coming to finish his eight years. There were those in the country who felt that under no circumstance, would they tolerate a conversation that another Fulani man (Atiku Abubakar) was going to take over power from a Fulani man (Buhari) even though our circumstances and our issues were different. The APC on their side or those people who then became APC had always been picking a northerner until they got the numbers and they got the Villa (the presidential office).
Unfortunately, the political parties in Nigeria, ours (PDP) inclusive, have not evolved to the level where they see themselves as a tribe, where you are born in your tribe, whether you like it or not, and you die your tribe, as the nature of life. But as political parties, they feel that it is a free joiner, free leaving association. So, people then have the ability to now say, 'we will not be part of this' And when you have the type of characters that were in charge of states, who created themselves into a special group of people with the kind of energy resources interests, you know, attention they gave to that struggle, we ended up with another opportunity for Nigerians to say 'Oh, PDP, you are your own enemy'.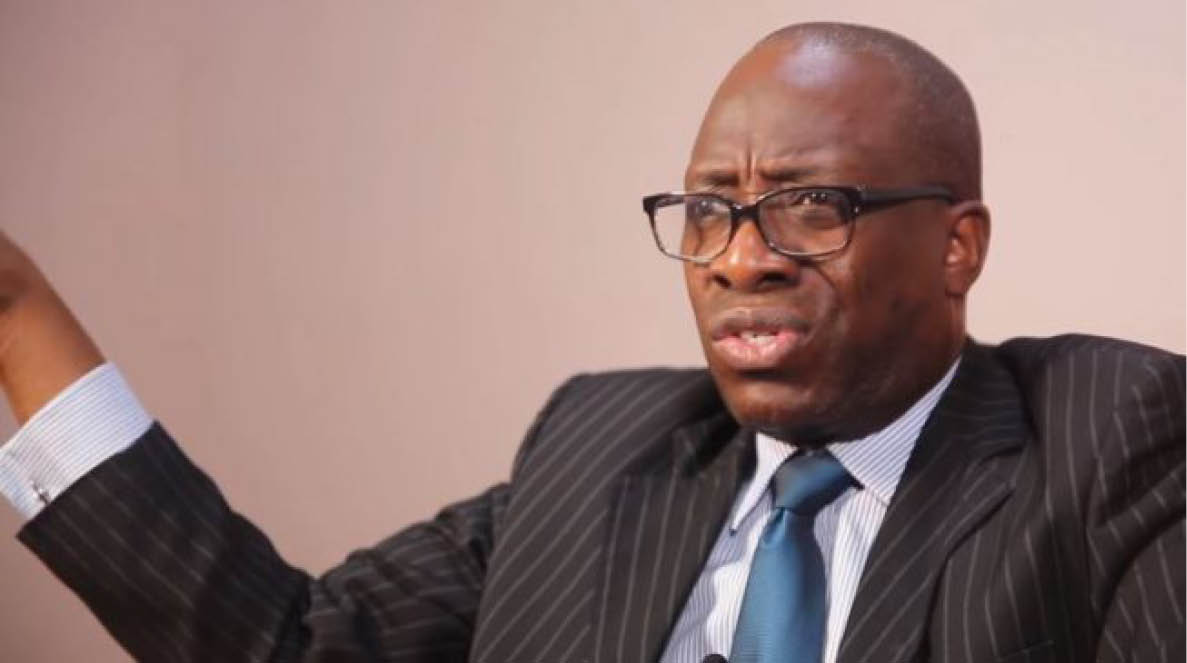 Q: There is the belief that if PDP had done very well in its 16 years of being in power at the centre, it would not have lost election in 2015. Do you agree with this position?
A: No, I don't. In fact, that is one of the things that I vehemently oppose. I think what has happened to all of us in this space is that we have not soberly looked at the eras. If we had looked at the eras soberly and we have tried to compare oranges with oranges and apples with apples, we would have seen that the PDP is, by far, better in terms of what the Nigerian people got than the people that are here now.
Let me start by saying that we must not pretend as if we did not know that, given the military regimes that culminated in June 12 presidential election that produced the pariah status that culminated in death of General Sani Abacha (former Head if State) and led to the nine months interregnum of General Abdulsalami Abubakar (another former Head of State), we must not deceive ourselves that we don't know that the country was really and truly a pariah status. We could barely do anything. We were just surviving, may be because nations don't die If the people that are citizens of that nation are not dead. We hardly had any big bank that can do anything in Africa, let alone in the world. We hardly had even basic things like early education, that is guaranteed by universal basic education and which gave everybody education. We hardly had the universal health system that gave people health centers all over the place. We hardly had communication platforms that liberalized their ability to be able to get information. We didn't even have the telecoms the way that we have now become so used to. We couldn't do mobile banking to avoid people going to queue in the banks.
We could go on and on.
The civil servants, the bedrock of the bureaucracy that can keep a country, could even hardly participate in the things that make life meaningful. They couldn't buy cars, they didn't even have houses, they couldn't do much. It seemed like at that time, they were confined to a lifestyle, and a revenue availability that was that too low, barely able to get them to do anything, we couldn't even create another alternative economy around Nollywood, the music and people who provided other things, like event organizers, like other economy that is going on his own.
We didn't even have the SME Windows as a platform. Every conversation was always manual and all of that. PDP was able to do. We did not have the liberalization of the democratic space, to even encourage democracy to be a thing that everybody can even interface with and talk about. We had a lot of debts. The worst being that we could not even write a letter of credit that anybody could really recognize you and say the balance of trade is this and that. And a lot of nations in the world did not even really respect us or even take notice of us except for in saying 'Oh, they 've locked somebody in jail', 'Oh, they've killed somebody'. That was the kind of environment we had. Painstakingly, under the PDP years, we created the idea of a united Nigeria again, everybody found himself and his people within the space of government .
It was even during the PDP era that we managed to find a way to reduce the restiveness in the Niger Delta, which then began to give us the opportunity to produce the oil. We did a lot of policies-the administration of criminal justice, we  w did much. But naturally, in a democracy, especially the type of democracy we have here, until we are able to guarantee minimum irreducible support from government to the mass of the people, they will always ask for the so called democratic dividend. And anybody who can come into the space and tell people that he will do this, he will do that, even without them asking, where will he get the capability to do those things, will always be more popular than the person that is on the seat, providing the bots that they can provide. We made Nigeria stronger in ECOWAS, we were so respected to the extent that we when we sneeze, people catch cold, these are all great things that we did. And when power moved, as it is sometimes going to move in every society, the people must, of a necessity,  recall, and which is very hard, because memories of that nature can be difficult to recall. But it is the responsibility of the elders and the stakeholders in the society to remind them that in actual naira and kobo, their lives were greatly better. How many Nigerians could send their kids abroad until this PDP era that we're talking about. And if you look at what has happened in the last eight of APC, under Buhari, one thing you must have to accept is that this country has returned back to the concept of 'to your tent, oh, Israel', where everybody sees everything from a tribal point of view. And some of us, like me, I have been struggling so hard to try to say, we can still be Nigeria, notwithstanding the fact that we are all tribe men. And even if that is what PDP has been able to do, I think we can say safely say, true, that we have done very well. They have not been perfect. There have been mistakes here and there, there have been some issues around what would have been the auditing process around money and corruption. But when you compare the figures with themselves, you will know that that is a child's play,. You can even look at the borrowings and the debt profiles of the country. I mean, can you be a nation that you barely don't have any money because you have over borrowed you have over leverage, and you're just in the mess? Your revenue did not grow, yet, you were funding everything with debt. And now, you are so hedged to the point that, frankly, and truthfully, you will just struggle for some time and hopefully you can create new wealth if they know what they are doing. We grew this economy to a double digit. They and doing BRICS now, we are not even there. Before, during our time, we had become BRICS-N to accommodate Nigeria into BRICS.
Today, as in 2015, nobody reckons with us in terms of being an economic power. They may be reckoning with our private sector, in terms of what our banks are doing in West Africa and the. kinds of things they are getting themselves into, and what some of our big businesses are doing in their country. But as a nation, our philosophy and our brand had been greatly diminished, because of the type of policies, the type of people, the type of attitude and the type of posture Nigeria has had since PDP has been gone from office. So if people say PDP did not do well, I do not agree. It's always a work in progress. But PDP did exceedingly well, within the context of where the country was coming from, and where we left the country.
Q: The PDP has witnessed a lot of crises, particularly leadership crises, between its formation in 1998 and now. Some political analysts believe that that also contributed to its lost in elections since 2015 till date. What's your reaction to this?
A: Well, whatever you see or describe and ascribe to crisis is just a reflection of the fact that it's a democratic institution.
In any democratic institution, according to the type of environment that we have, that gives people the right to air their views, whether they are alternative views or the views of the ruling party or the ruling hegemony at that time, that tries to obey the court orders, when they come, that no one can claim that he is the owner of the party and is not a bag carrying political party, like the other, is bound to have this inflections. And the aggregate of it is that you will say a political party can never be enjoying the peace of the graveyard. It is only a contraption that a few people or one person owns and where he can say his way or the highway and everybody will just say, Yes, sir.
And you can see it, even in our recent history of how our candidates emerged. The conversation was very, very robust, almost becoming very pitched along the line of who will get the ticket, how would the kitchen we've gotten, who will be the vice president, how will the vice president be picked? There were conversations around all of these issues?
Look at our rivals. It was almost as though they went to canonize a candidate, where everybody was stepping down, everybody was bowing and everybody was telling themselves in the less than normal human nature way, that no, they're not doing, because of the one that they wanted to do.
And the basis by which the running mate came up, in spite of all of the numerous human beings who probably would have also felt entitled or interested, it was not open for discussion. While we were balancing the ticket, because of the diversity in the country around the faith of the country being fairly divided between Christians and Muslims, they
didn't even bother. They just simply went and did whatever they wanted to do and  nobody in the party could really do any real push back. If that is what you call a political party. well, it's not bad. It's one model. But maybe you will say that model is the Chinese model, or maybe the Russian model. But you can never call it the liberalize spaces of other countries who allow decent, decent, who allowed the expression of human opinions, and who allowed people to be in a democracy. So if there be anything that PDP has shown, however it has its consequence. PDP has shown that it seeks, it believes, it thrives and it lives by the principle of democracy, which is government of the people, for the people, by the people. And sometimes, some might, who is higher than the others may have better possibility of having their way. But in PDP, even that might, will still see him or herself being challenged to the strongest of human fibre and whatever is possible. And in Africa, where people are just beginning to catch up to the idea that, 'that I have an alternative point of view from you, does not have to make us enemies', or that I agree with you or I like you, does not necessarily mean that I must agree with everything. you do.  I must have the ability to still be an individual with my own views and opinion in this big space.
If the alternative political parties, all of them, be it APC, be it Labour, be NNPP, if they do not know that what is happening to the PDP is the natural future that awaits them, is like a small boy, who is wondering why his father's head is bald.  If can be futuristic, he will realize that the badness that is on his father's head is still coming to him. That's what's going on here. Because it is improbable that you can hold people down in a democracy and expect that you can hold them down for ever. They may be able to hold them down because of maybe the fear of being in power or maybe privilege and after a while, these things will not happen. It will not hold them down. So the earlier they reform themselves, the earlier they make themselves a democratic space, the earlier, they try to distinguish themselves along ideological leanings or direction, the better for political parties.
Q: When you addressed the press few days ago, you did complain about what you tagged the overbloated size of President Bola Ahmed Tinubu Ministers. What makes it overbloated?
A: You see, there are times and there seasons in the affairs of nations. You can not be struggling with the finances of the country and be piling on the citizens more pressure in the manner that you are telling them to be squeezed even more. If you are telling me you cannot pay subsidy for oil and you are telling me that inflation is going to make the cost of living a bit higher, it doesn't really make a lot of sense for you to be having a big cabinet as well, especially where if you really look very well, you can see that some of those responsibilities you are given to some of these responsibilities you are giving some of those Ministers are things that can even be collapsed under one or two of them. Then, you will also notice that it becomes even more offensive for a President Bola Tinubu government, reason being that restructuring, which was the conversation that they were mounting forever and ever, what sits easily in that bucket is the need to give more power, responsibility and whatever to the zones, regions, States whatever and local governments So, it is an anathema for you to be preaching that kind of, policy for all of your life, only to get into government and then you are even expanding the national government more, especially when you can't afford it. So, if I say it is elephantine, it may not have been a good adjective for some other persons or under another circumstance. But in the present circumstance, a leaner, more fit for purpose cabinet would have been better. In fact, I dare say that if I had my way, I am going to adjust the part of the Constitution that says you must pick from every state, because what am I going to do with that thirty-seven (37) of them?  Why do I have to be compelled to look for 37 seventh Minister, when maybe 12 will do or maybe 20 will do and then others can do other things?
Some of the people you are making ministers in this particular cabinet, they are not worth more than board Chairmen. For a nation that wants to get so much done, some of the people you are calling Ministers in this country would have even been better off as Board Chairmen who will probably be driving governance at that level in a faster and more purposeful manner. You cannot continue to use appointments of Ministers and all of that as a reward for party loyalty on election because it is a dangerous model. The funny part is that it will never satisfy even the party. And it does not even allow you to see that the call to come and serve as a minister is such a high level call to service that you will need to be exceedingly professional in the discharge of your duty. But once patronage gets in, you see the quality of people that you are bringing . Men who should, by now, be answering for their crimes or getting reviewed for their tenure, you have gone on to start telling them that they are the best in the country.