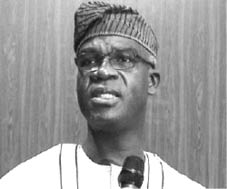 By Lateef Ibrahim Abuja
The National President of the Nigeria Union of Journalists (NUJ) Alhaji Waheed Odusile has called on the committee investigating the crisis bedevilling the NAWOJ/NUJ Housing programmes to exhibit thoroughness in its work of ensuring that a solution to the crisis is reached.
Odusile, who spoke while inaugurating the seven-man committee at the weekend, explained that the interest of NUJ is to ensure justice for all and that the NUJ will not shield anybody who is found to have erred.
He said that the decision of the NUJ not to shield anybody found culpable could be seen in the appointment of the committee members, whom he said were picked from members of the committee whose integrity are not questionable.
The NUJ at its NEC meeting in Sokoto in June this year, appointed Mr Bonnie Iwuoha and Bola Ogunlayi as Chairman and Secretary of the committee respectively, while Mr Richard Akinola, Lanre Ogundipe, Mrs Moji Makanjuola, Mrs Toro Oladapo and Alhaji Abdulkadir Ahmed were appointed as members.
The committee will advise the NUJ on measures to take, over the alleged fraud of about N1.6 billion of the NAWOJ/NUJ Housing Programme at Mowe (Abaren) commonly called Pen-Jewel Estate.
The NUJ said in a communiqué issued at the end of its Sokoto meeting, that, The report of the Lagos Council Abaren Land was received and deliberated on.
NEC directed that a committee be set up to advise it on the proper line of action to take.
A committee earlier constituted by the Lagos Council of the NUJ had recommended among other things, that MOU signed with the developer should be CANCELLED and the project TERMINATED, especially as the developer has shown gross lack of commitment, and diligent execution on the project.
It added that a letter be sent to the developer terminating the MoU and project in its ENTIRETY, while a Quantity Surveyor be engaged to assess the value of work done by the developer on site.
It further recommended that NAWOJ President, Mrs. Ifeyinwa Omowole MUST pay back N159 per dollar, amounting to about N4.3million being the balance of the expired $27, 610 purported to have been exchanged for N150.
The committee further said: *This amount is arrived at using the N309 exchange rate figure earlier agreed on for the conversion of the $420. She should also provide evidence of remittance of the earlier N4 million from this money to the NAWOJ Pen Jewel estate account.
*That any land allocated to subscribers between 2013 and 2017 MUST be revoked outright.
*Mr.Deji Elumoye MUST pay back the full money of any such revoked land to the allottees. This is because allocation for the Abaren Village land in Mowe, was concluded in 2012, urging subscribers to pay N60, 000 for perimeter fencing to prevent encroachment.