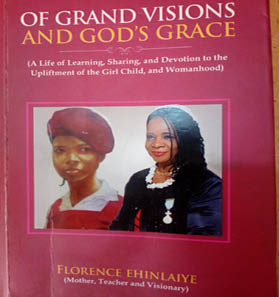 Monday Column by Emmanuel Yawe
[email protected] | 08024565402
Written by Florence Ehinlaiye, 'Of Grand Visions And the Grace of God' is a beautifully written book to demonstrate that the sky is the limit for a well brought up and groomed girl child.
It is a book of learning, sharing and devotion to the upliftment of the girl child. The story is woven around the true-life story of an unsung heroine who has lived for seventy remarkable years and has through her activities impacted positively on the Nigerian landscape.
The author advertises herself first as a mother, teacher and visionary. But she is much more. Born on 7th May 1948 to the family of Samuel Moniruvwe and Irene Orife of Emevor in Isoko North Local Government Area of Delta State of Nigeria, she grew up to attain great heights in her life.
She is a product of four iconic schools – The Anglican Girls Grammar School, Ughelli for her West African School Certificate; she also attended the oldest girls' school in Nigeria, the St Anne's School, Molete in Ibadan for her Higher School Certificate and capped it up with a University degree at the first and best University in Nigeria, the University of Ibadan. At the university of Benin, she later took a post graduate diploma in education.
Additionally, she is a knight of Sabongida Ora Diocese and a Chief – the Oniemo of Uzere Kingdom.
Described by those who know her closely as a "teacher extraordinaire", Dame Florence-Ehinlaiye is passionate about education/teaching, anchoring her beliefs on the notion that good parenting is of essence. This is reflected in her writings, notably her first book – The Girl Child, published in 2005.
Of Grand Visions And God's Grace was written to celebrate her land mark age – the Biblical three scores and ten age attained on May 7 2018. It is her memoirs, the story of her life. It reflects her struggles, the ups and downs she faced in the past seventy years.
The 272-page book with a forward by John Nevboyeri Orife, Ph.D. Associate Professor of management Indiana University of Pennsylvania Indiana, is divided into 12 pages. There are also numerous pictures and is rounded up with a basketful of tributes to the Dame.
Written in excellent prose, the book is a testimony of the sound educational background of the author. The opening pages deal with her roots, her parentage and ethnic background. Then she talks about her brothers and sisters in detail, giving a profile of almost all of them including even cousins. Thus, from the very beginning, you have the picture of the author as somebody who cherishes her family background – a value that most educated people in Nigeria have carelessly jettisoned today.
The author evidently has very high regards for her father who positively influenced her successful career as a student, teacher and school proprietress. Her father's ambition she writes, was to go to Kings College Lagos but when things didn't work out, he settled for a Teachers Certificate. As a teacher, he attained great heights for in her words, "he emerged as the first Grade One Teacher in the then Eastern Urhobo Council Area, now called Isoko North and South Local Government Areas."
"SMO, as he was called by friends, was an avid reader. He regularly subscribed to the British READERS DIGEST. This impacted my reading interests in many ways. The Readers Digest had a section on new words/vocabulary. My dad although was not a graduate was more knowledgeable than many doctoral graduates then and today. Education for him was key."
At the age of seventy, the author exhibits an amazing memory of past events in the book. For instance, she remembers the antics of her stubborn younger brother Jacob who would not accept her seniority but challenged her "over any, and every issue while growing up." She also remembers the unique pleasure on that day in Ondo in the early 50's when she felled him in a wrestling bout, a victory that secured respect for her as an elder in the eyes of the stubborn Jacob. She also remembers the white sweater she wore on 29th July 1973 when she took a flight to London and that it was a gift from Mrs Ajayi.
But it is not always sweet memories that the reader will find in her memoirs. She tells the story of her unfair three months suspension in her final year in secondary school in 1968 – the year she was to sit for her West African School Certificate examinations. The students had staged a strike and gone on rampage over poor food. As the Head Girl, she was punished for her inability to stop the commotion. Similarly, she recounts vividly the events around the sad deaths of her father just when she was about to enter the university and her brothers – Harding and Odafe.
There are also chapters devoted to her landmark achievements. She goes into the details of the obstacles she faced in establishing her dream model school. Her doggedness and never give up spirit saw her through and finally the Twin Fountain School started operating in 1985. From its modest beginning in a rented property, the school has grown from strength to strength, moved into its permanent site and produced world class record breaking students. At the 10th Anniversary celebration of Twin Fountain, she records that the special guest of honour was Chief E K Clerk who was the Commissioner for Education in Mid West State when the Ministry suspended her for three months in the year she was to write her West African School Certificate Examinations.
There is also a chapter on her services to humanity most notably in the International Lions Club, in the professional and academic associations such as APSON, SOFSON and NAPPS.
The book also includes an insertion of excerpts from her first book – The Girl Child.
The memoirs are finally confirmed by the testimonies of many of those who grew up with her, went to school together, met her in the work environment or lived as neighbours etc. They all testify to her exemplary qualities. For example, Hon Justice Roseline Bozimo, OFR, Administrator, National Judicial Institute Abuja has this to say about her:
"A woman who carved a niche for herself in her fatherland, a woman whose name has become a household name, a popular but God fearing woman. My darling Oniemo, you are a woman of honour, a woman of high standards, a visionary, a mother, a hard worker and that you are good is like a candle, it consumes itself to light the way for others."
The book contains a few errors, mostly proof reading errors that are popularly referred to as the 'printers devil'. These errors do not in any way subtract from the high objectives and quality of the book. It is a book about the struggle of a single minded and determined lady to leave a better world than the one in which she was born. Any struggle that is not documented is not worth it.
Of Grand Visions and God's Grace is thus a worthwhile enterprise.