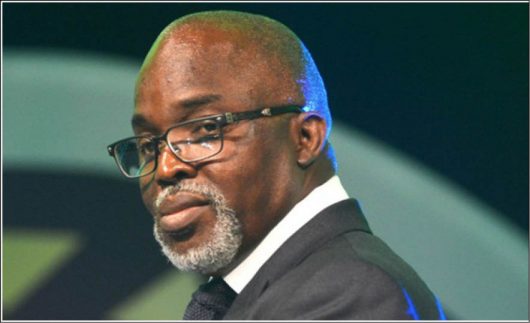 By Albert Akota and agency report
The New Year may be a most turbulent for the board of the Nigeria Football Federation (NFF) led by Mr Amaju Pinnick. The odds are heavily stashed against them and may be divine intervention can save them at the end of the day.
Documents made available to newsmen showed that the preliminary investigations conducted by the Special Presidential Investigation Panel on the Recovery of Public Property killed the entire available alibi the FA can rely on.
The documents were too convincing. Their prosecution has been approved in principle, two grounds of allegations has been set for prosecution after the festivities" said our source.
"Pinnick's men did not expertly retire the N1.6billion 2018 World Cup funds given them by government.
They seem to have been in a hurry and left too many gaping holes of concern. As it is, misappropriation and misapplication of funds are the two flanks they would be held.
Unknowingly to Pinnick and his cohorts in the Glass House, the Federal Government is now made to be aware that FIFA gives participating nations $1.5m for preparation and participation at the event.
FIFA also takes care of accommodation, transportation and feeding of all 32 national teams involved with the world cup, while CAF supported the five African qualifiers with a sum of 500,000 USD.
Incidentally, monies had been paid to the NFF for the same overheads.
"Government has received series of petitions on the Nigeria Football Federation, we are also aware of the touch of blackmail using the FIFA toga with which they have gone about their businesses, with little or no respect for the Nigeria sports minister.
"They may have had their way in the past but will not be lucky in the coming days as government does not take lightly issues of virement. This is a very serious offence and they may not escape," the source said.
In their case, it was reported that part of the money was used for transportation and accommodation of other officials which totally contradicts the purpose of the release.
Apart from this, we were made to understand that some of these monies were also used to prosecute the under 20 men's nations cup qualifier, the Under 20 Women's world cup and the Super Falcons nations cup campaign in Ghana.
That is a clear case of virement. Under federal civil service rule, it is expected that they make a fresh application if these monies were to be used for other purposes.
There must be another memo, requesting for approval else it is assumed that the monies were never retired even as the NFF continue to brandish documents showing they have successfully retired the funds.
Already, as at when we went on Christmas and New Year break, their charges have been laid. They are going to face two count charges of misappropriation and misapplication which in itself are criminally incriminating.
It would be recalled that four former NFF members including president Sani Lulu Abdullahi, former Scribe Chief Taiwo Ogunjobi, former scribe Dr Bolaji Ojo-Oba and Chief Amanze Uchegbulam were victims of allegations of misapplication of funds after the 2010 world cup in South Africa.
They spent seven good years battling with the prosecution conducted but unsuccessfully delivered by the Economic and Financial Crimes Commission (EFCC). They were eventually cleared of all charges.