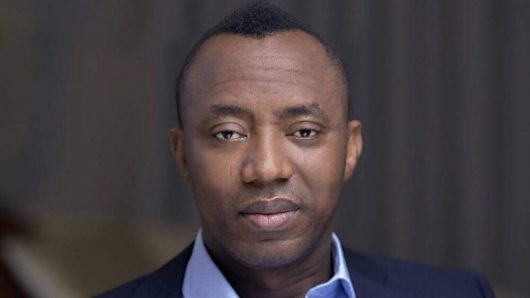 The Department of State Security (DSS) Sunday confirmed it was holding Mr. Omoyele Sowore, the publisher of the online Sahara Reporters newspaper. The presidential candidate of African Action Congress in the Feb. 23 election was picked up Saturday from his Lagos home over planned #RevolutionNow protests billed for Monday Aug. 5. The police broke up the Lagos march but allowed a counter protest march in Abuja.
DSS spokesman Peter Afunanya who confirmed Sowore's arrest and detention said Nigerians should disregard the revolution threat. He said Sowore was arrested for threatening public safety, peaceful co-existence and social harmony in the country. According to him, the service is charged with the "responsibility of managing, curtailing, containing and eliminating threats against national security" such as sabotage, subversion, terrorism, ethnic agitation, separatist agitation, economic sabotage. "If we are operating as a responsible security organisation and someone is calling for a revolution in Nigeria, we must understand the meaning of revolution. Primarily, it means a revolt, it means insurrection, it means insurgency, it means forceful takeover of government and we are operating a democratic system in Nigeria".
Reacting to Sowore's revolution threat, the Presidency Sunday said the ballot box was the only legitimate means for a regime change, not a revolution. A statement by Garba Shehu, Senior Special Assistant to the President on Media and Publicity, said there is a difference between a peaceful call to protest and inciting a revolution. "The President of Nigeria and his administration respect and uphold the right of every Nigerian to peaceful protest and civil campaign – whether to raise awareness on issues, and even oppose the government," the statement read. "It is the inalienable right of all citizens of the Federal Republic of Nigeria to do so. There is, however, a difference between peaceful call to protest and incitement for a revolution. The organisation championing this planned action is not fronted by any serious public faces. We call on the sponsors and organisers to have the decency to come forward and make their identity known – out of respect to all Nigerians – so that Nigerians can be fully aware in whose name this 'revolution' is being proposed and who the beneficiaries may be".
The Online Publishers Association of Nigeria (OPAN) on its part has demanded Sowore's "immediate release". In a statement Sunday, it said the DSS should "immediately charge Mr. Sowore before a competent court if it feels the journalist and activist-cum politician has broken the law of the land". It described his indefinite detention without allowing him access to his lawyer or charging him to court as "crude, undemocratic, brazen and draconian".
It is unfortunate that Sowore's running battles with law enforcement agencies have come to this sorry state. Yes, like every bon a fide Nigerian, Sowore has the constitutional right to protest against government policies and decisions that he is uncomfortable with. That protest should aim to make the government change course. However, this was not the intention of Sowore. His was to effect a change of government of the day. This is not only unconstitutional but also a breach of the laws (Criminal Code) of Lagos state where he planned to lead the 'revolution'. As a politician who ran against a sitting President and lost, Sowore wanted to play the smart Alec. He wanted to use his citizenship right to commit a political vile. He got what he called for. If you want to unseat a legitimate government through illegal means you are knowingly inviting trouble. This is the way to see Sowore's action. There should be no sentimentalism here.
That said, we admit that the law says Sowore is only being held as a suspect, and he should be taken to court within 48 hours of his arrest. The DSS has held him since Saturday and today is the fourth day. This is a breach of the law. The DSS shouldn't be a law enforcer and its breaker at the same time. If there is a need to hold the suspect for much longer than 48 hours in the first instance the authority to do so is that of a competent court of law, not the DSS'. Let the right thing be done.