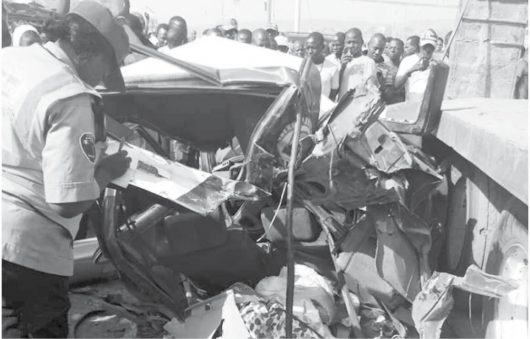 …woman killed, many injured
By Stanley Onyekwere
Tragedy struck yesterday when a trailer (heavy duty truck) conveying an excavator failed break and crushed several vehicles on the busy Nyanya/Mararaba road in Abuja, the nation's capital city.
It was gathered that the accident which occurred during peak of the Wednesday rush hours traffic at the ever busy Nyanya interchange, resulted in the instant death of a middle aged woman while several others were critically injured.
Our correspondent reports that the accident occurred about 9.35am shortly after the FCT Ministerial task team on traffic free flow cleared traders off the roadside, for the Nyanya Wednesday weekly market.
However, commuters commended Task team on traffic free flow for keeping the traders off the roadside before the accident occurred.
According to the several eyewitness accounts, thr trailer, which rammed in many vehicles was conveying an excavator to an undisclosed construction site, when its break system failed while descending kugbo hill.
It was learnt that the ill-fated trailer on approaching the busy Nyanya interchange crushed several vehicles before smashing golf kswagen saloon car, which was completely crushed into pieces.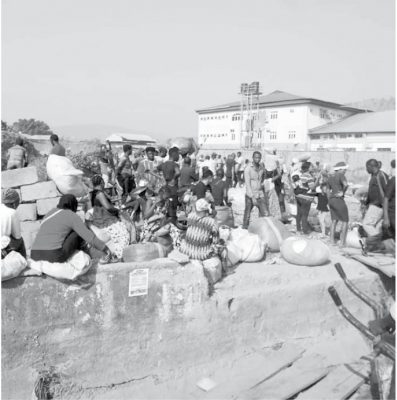 Also, it was revealed that the noise of a heavy duty vehicle crushing cars was heard, even while the members of the task team was going round roads around the market on inspection.
As expected, rescuers and onlookers rushed to the scene, and evacuated lifeless body of a middle aged woman was found alongside others seriously injured.
PeopleDaily learnt that the remains of the dead victim was conveyed to the mortuary at the Nyanya General Hospital by Federal Road Safety Corps (FRSC) ambulance while the injured were taken to Asokoro Hospital for treatment.
Reacting to the incident, an FRSC Senior officer, Mr. Arinze Agu described it as unfortunate situation.
Agu, who is the former FRSC Unit Commander for Nyanya, was excited that traders were cleared off the road before the accident, without which greater fatalities would have been recorded there.
Also speaking, the chairman, Fct Ministerial Task Team on traffic free flow, Ikharo Attah who joined in the rescue efforts, said it was time for roadside trading to stop across the fct to avoid exposure to mortal dangers.
Attah also called on drivers of heavy duty vehicles to ensure their vehicles are always in good shapes , particularly their break systems.