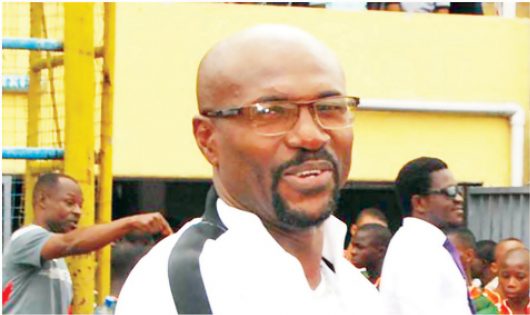 Ahead of Saturday's match with Togo in the 2019 West Africa Football Union championship, Super Eagles B team coach, Imama Amapakabo has disclosed that while he aspires to win the trophy with the home-based Eagles, the victory would make no meaning to him if the players did not go ahead to develop and become better players.
Amapakabo who spoke with ESPN said he would not like to achieve what he referred to as "artificial victory", added that any victory achieved in a tournament without two or three players from the team going on to become better players within three days, is a "selfish success."
Of the four finals played, the Super Eagles have contested three, winning one; Ghana and Senegal are tied on two each. The only final that Nigeria missed was in 2013, when they failed to attend the tournament. Incidentally, one of their final losses was to Togo, their opening-day opponents at this year's tournament in Senegal; but we will return to that later.
Nigerian coaches always go into tournaments, especially in Africa, with ambitions of returning home with the whole caboodle. They should. Because that is what the fans and officials expect. This year is no different. Especially for a team with the record that the Super Eagles boast at the competition. But Imama Amapakabo, who will coach the team to this year's tournament, tells ESPN that his objectives are broader than just winning
"As a coach, every time I win a trophy it adds to my CV," Amapakabo said, "But I don't like artificial victories. If I have success with the team and two to three years down the line the players don't develop, it becomes a selfish success and that is not the type of success I want to talk about."
Amapakabo's goal, instead, is to build a team that produces personnel who will serve the country for years down the line
"I want to look at my team holistically where after winning trophies I have about nine or 10 of them doing well in Europe. Then it would be my joy that as a coach I was able to build a team that was successful. I don't just want artificial success but I want to be able to create players that make an impact."
Amapakabo is right.
Ahmed Musa, who helped Nigeria win the title in 2010, while he was playing for Kano Pillars, is the only player to have represented Nigeria at the WAFU Cup of Nations who has gone on to make a successful career in Europe and with the national team. Victor Ezeji, Ejike Uzoenyi, Ekigho Ehiosun, Gege Soriola and Gbolahan Salami are Nigeria's standouts from the other WAFU players but none of the quintet went on to have an international career of note.
Amapakabo says it comes down to a mindset issue that afflicts local-based players
– Watch the WAFU Cup of Nations from Sept. 28 to Oct. 12 exclusively on ESPN.
"Our biggest challenge has been with character and attitude, not in terms of quality," he said
"Our players here need to change their orientation and mentality about the game, and act like professionals.
"A bit of a challenge also is that our players here don't interpret and understand tactics in a short while. But we are beginning to teach them."
As a corollary to that, Amapakabo also wants Nigerians to flip a mental switch in terms of their expectations for tournaments like the WAFU Cup of Nations and the African Nations Championship (CHAN).
"In the mind of Nigerians, every trophy is very important; but it's about time that we understand that we need to put competitions in proper perspective."
As a member of the team that won the inaugural FIFA World Under-17 Championship in 1985, the coach says that title may have ultimately turned out to be more curse than blessing
"The orientation and the mentality of every Nigerian is very wrong. I'll start with the maiden edition of the under-16 tournament. Till today I feel some regret that we did so great because everybody feels that all that matters is winning, but we forget that these competitions are developmental.
"We won it about five times but where has that taken our football? The last tournament of WAFU and CHAN, I was present at both and we came second in both competitions, But where did that leave us? Where did it leave our league? These competitions are supposed to reflect our league; that is what we should be looking at."
Like CHAN, the WAFU Cup of Nations is restricted to players playing for clubs in their home country.
This means Amapakabo faces an additional hurdle in his attempt to both win the tournament and develop players. The Nigerian league has been in hiatus for the better part of three months, and it is unlikely to restart before the tournament kicks off.
A workaround is required, and Amapakabo, the man who found a way to mastermind a first league title in more than three decades for Enugu Rangers, in 2016, says he has found a workable solution. For the Olympic qualifiers, he picked players for Nigeria's under-23 team — which he also manages — who could also play in the WAFU team.
"That was a challenge because the league isn't on, so my team and I decided to use the Under-23 team as a foundation.
"It is our own unique way of making our own confusion work for us. But even that is a failure on its own because when confusion helps us get the result sometimes, we think there's been progress or growth when there is none."
This sort of deep thinking is typical of Amapakabo, who has a reputation for being a very cerebral coach. He not only reads poetry but also writes his own verses and studies the game as deeply as he can. As a former goalkeeper, he tends to look at the game with a wider lens than others, and he is determined to reboot the mentality of Nigeria-based players to bring them up to speed with their Europe-based counterparts
But for now, his priority is to prepare the team for a "grudge match" against their 2011 conquerors Togo. He admits that he knows little about the opposition, so his strategy has been to channel his brain power into focusing on his team instead
"We are trying to gather all we need to know, but it is not much. So we are working on every bit of information that we have about them, and we have clips from the game we've played against Sudan so we can focus on our game and play to our abilities."
It should be interesting to see how that approach works against Togo in two weeks.