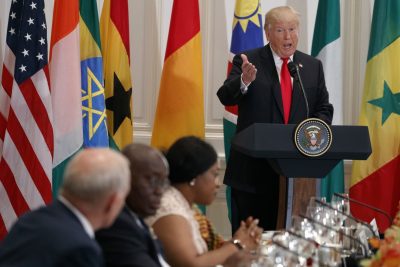 Tuesday Column by VICTORIA NGOZI IKEANO
[email protected] 08033077519
What is your reaction to the allegations of former Central Bank of Nigeria (CBN) helmsman and Emir of Kano, Dr. Sanusi Lamido Sanusi of non appearance of 'invited' Nigerian officials to a US-Investment meeting organised by the Nigerian embassy in Washington DC capital of the United States of America, and their prompt denial by the ministers mentioned? When a man like Emir Sanusi who had reached the peak of his career as managing director/chief executive officer of Nigeria's leading and oldest bank, First Bank of Nigeria plc, Governor of the CBN and currently the King of an influential and prominent part of Nigeria speaks, his words are to be taken seriously. In the traditional parlance it is said that the king, Emir, Oba Igwe, does no wrong; he is considered as a repository of wisdom and knowledge who is not given to flippant or idle talk. So, when he speaks, his speech is weighty. Thus Emir Sanusi's reported speech from the US alleging tardiness on part of some ministers were no less weighty and jolted many.
Here is Emir Sanusi words, "We had a meeting today with investors, we were supposed to start by 9a.m., we started at 10. When I came they took me to the ambassador's office to sit down, when investors are waiting down there. We had a list of people who were to be here, vice president, ministers, some of them are in town but they have not come up. You invite top investors, your ministers are in Washington and they do not come to talk to the investors about Nigeria. That is not how you attract investors. Sometimes it is about how we market ourselves, how we package ourselves. There is absolutely no reason for the Nigerian embassy to arrange a 'Nigeria is open for Business' forum with ministers in town, with governors in town and not have the coordination that they are actually here to meet with these investors… because at the end of the day this is the first point of the country, he has not even come to Nigeria so what will be his experience in Abuja and he is saying 'if am having this experience in Washington what will happen when I go to Abuja, when I go to Kano, how do I get to see the governor, will it take me 10 hours?'
Many people immediately drew their own conclusions and passed instant judgement from what Emir Sanusi said, just as the social media rats went berserk, blurting out inanities and insults on the ministers concerned and Nigeria itself. The major opposition party, PDP, immediately voiced its dissatisfaction and the National Assembly asked to investigate the matter. None of them waited to hear from the other party, those concerned. Their outbursts are understandable given calibre of person making the allegation – the Emir of Kano himself. For me, my first reaction was to wonder at the coincidence all of the high ranking officials invited to the programme being absent, save for minister of transportation, Rotimi Amaechi. Among those expected at the programme but not there were Ministers of Finance, Petroleum Resources, Agriculture, Mining and Steel Development, Works and Housing and Science and Technology. I asked myself, how come that all of the aforementioned ministers including the vice president mentioned by Emir Sanusi, shunned the meeting without sending representatives? Could it be due to politics as we Nigerians are wont to ascribe to most things, I conjectured. But this is about the economy and there should be a fine line between politics and economics. In any case Vice President, Professor Yemi Osinbajo from my distant observation of him is a gentleman who would ordinarily not shun such a forum to sell Nigeria to investors, I soliloquized. Something is wrong somewhere, it will be interesting to hear their excuses for this oversight made public by no less a person than the Emir of kano, I concluded my musings.
Those 'indicted' have come out to say they were not properly informed about the Embassy meeting and that in any case that the meeting time clashed with those of the yearly IMF/World Bank meetings which was about the only agenda on their diary for Washington. Hear Finance Minister Kemi Adeosun, "I wasn't due at any other event. My schedule is what I must adhere to". The CBN chief, Godwin Emefiele who was also listed on the programme remarked, "When I arrived in Washington, the officials of the (Nigerian) Embassy spoke with me that there was going to be a US-Nigeria Summit and I said I will check my schedule because I wasn't consulted when this summit was being organised. What one would have expected is that they (organisers of the summit) would have checked my schedule and that of the finance minister. They could have checked our schedules to see that there was no conflict. The US-Nigeria summit was meant to hold between 2p.m. and 3p.m. whereas the World Bank committee plenary session which is an assembly of ministers and governors of central banks was to hold between 2.45p.m. and 5p.m. There is no way the Finance Minister and myself could have been there. It is unfair for people to begin to cast aspersions without understanding our schedules. The main reason we are here (US) is because of the statutory meetings of the IMF and World Bank. We are not irresponsible people".
Information minister, Lai Mohammmed, flatly denied Sanusi's allegation, stating that the Ministers of Agriculture, Budget and National Planning as well as Works, Power and Housing were not officially invited. He further clarified that some of the other listed ministers were either at the Commonwealth Heads of Government meeting with Mr. President in London or IMF/World Bank meetings, adding that he himself though invited, could not make it because of "conflicting schedules".
On the surface it would seem our US embassy did a tardy job in organisation of this botched investors forum. Nonetheless, the revered Emir of Kano should have quietly called up his successor at the CBN and the ministers to find out the reason for their absence rather than going public with his allegation. We should not wash our dirty linen in public. A probe should be instituted on this matter and those embassy officials or any others found to have caused Nigeria this embarrassment through negligence of duty or sheer incompetence brought to book. Another but proper US-Nigeria Investment Forum at which all stakeholders shall be present should be organised in the nearest future.