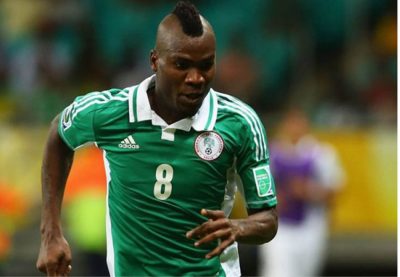 The forward started the World Cup qualifying campaign against Zambia on October 9, 2016, as the arrowhead under Gernot Rohr; but when the 30-man provisional list was released on May 14, 2018, Ideye's name was conspicuously missing.
That was the same scenario in 2014. After helping the Super Eagles claim an unlikely Nations Cup win in 2013, many expected the lanky forward to be part of the 23 that would be in Brazil. But lo and behold, the likes of Uche Nwofor and Michael Uchebo got to see Pele's country while Ideye was wondering what had gone wrong.
He was also on Lars Lagerback's provisional list in 2010 but he did not make it, which begs whether he will ever represent Nigeria at a World Cup!
But Ideye is not the only big star that would be absent in Russia. Players like England's Joe Hart, Sweden's former talisman, Zlatan Ibrahimovic, and Peru's captain, Paulo Guerrero, will not be taking in the sights of St. Petersburg, well not as national team players.
There are various reasons that have caused these stars to miss out; ranging but not exclusive to a loss of form, nagging injuries, and personal issues.
Personal Issues
Ibrahimovic retired from international football after the disappointment of the European Cup in France in 2016.
However, despite throwing off hints that he would love to come out of retirement, Coach Janne Anderson decided against bringing back Sweden's record goal scorer.
Karim Benzema should miss out on the France squad because of a lingering feud with some members of the team and a court case that continues to fester.
Peru's captain, Jose Paolo Guerrero, will be missing in Russia after the Court of Arbitration for Sport threw out his appeal and extended his ban from football to 14 months.
Loss of Form
Joe Hart is not going to Russia because of a lack of form for West Ham, whom he joined on loan for the express reason of keeping in shape for the World Cup. Divock Origi was a darling in the Belgian national team until he was transferred to Liverpool and lost his form and place.
A loan move to the Bundesliga with Wolfsburg has not helped as he scored a paltry six goals in 22 league appearances.
Javier Pastore and Carlos Tevez would normally be in the Argentina squad but indifferent form in France and China did not help. Tevez even transferred back to the Argentine league but it was a little too late.
Injuries at the wrong moment
France will be devoid of one of their more experienced defenders in Laurent Koscielny, who suffered a horrific Achilles tendon injury while playing for Arsenal against Atletico Madrid in the Europa League semi-final.
Brazil had to call in Manchester City's Danilo and Fagner from Corinthians, who has four caps for the Selecao after Dani Alves broke down with a knee injury that has been confirmed will rule him out for two months.
Liverpool trio, Alex Oxlade-Chamberlain, Joe Gomez, and Adam Lallana in March, had already booked their places with Gareth Southgate but a knee injury in April against Roma in the Champions League put paid to Oxalade-Chamberlain's ambitions.
Gomez never really got back his form and fitness after ankle surgery following an England friendly with Holland in March.
Interestingly, it is his Liverpool team-mate, Trent Alexander-Arnold, who takes his place.
For Lallana just like Jack Wilshere, a bad habit of getting frequently injured swayed their national manager from taking the risk to pick them.
Another Liverpool man that will miss the Russia World Cup is Emre Can – seems there is something about Liverpool players and missing the World Cup!
The greatest World Cup player ever, Brazil's Pele said after Alves' injury: "Footballers hate missing games but I know first-hand that missing #WorldCup games is the worst feeling."