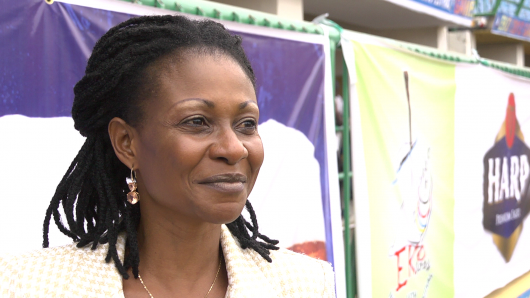 By Amaechi Agbo
A former Atlanta 1996 Olympics medalist, Mary Onyali-Omagbemi has stated the reason Nigeria is yet to produce the kind of athletes that won medals for the country in the 1996 Olympics held in Atlanta, USA.
Onyali who won a bronze medal in Women's 200 metres during the games said Nigeria's best Olympics outing has remained Atlanta 1996 because ninety percent of the athletes that participated in the games were foreign-based and had the best facilities they trained with.
According to 1994 Commonwealth Games 100 metres gold medalist, added that another factor that facilitated their performance was due the fact that the Nigerian athletes then, because majority of them were based in the US, already knew the players they played against, hence it was a big deal facing them at that level.
"We all know what was responsible for the successful Atlanta Olympics games. Let me say it again, in case you don't know it; what was responsible for that feat was because ninety percent of our athletes, during that era, including myself, were all foreign-based; we were all student-athletes in different schools. Even those of us who graduated stayed behind to continue training in the different schools where we were. All Nigeria needed to do was put a call to us telling us that they need us to participate in the competition they want us to. We will gladly accept it because we have already done the trainings with the best facilities and with some of the best coaches in the world.
"Time management and everything we needed were given to us in the school, free of charge. All you need to do was just run, eat and sleep. When Nigeria called for us, we had already gotten for ourselves ready with weekly competitions while we were in school so there was no way we were not tuned and ready to compete when called.
"Secondly, majority of the athletes that we were competing against in the major championships, we had already competed with them in school because many of them were all student athletes. While we were in the US competing in the collegiate circuit, we ran against each other. So when we met them in Atlanta Olympics, you are not a stranger to me. I know who you are, what you are capable of and vice versa. All that were left was the psychology part of it. All these little technical issues are what make the difference between our local athletes and the foreign-based in getting gold, silver or bronze in championships," she explained.
She however stressed that efforts are being made by her group to return Nigeria to its global reckoning in sports.
"Right now we have started moving our athletes back to the US. About more than 15 Nigerian athletes are right now in different schools in the US. Come Asaba African Senior Championship in August, God willing, you will see the trials and the championship itself and the difference will be there.
"From what happened at the last Commonwealth, come 2020, you will see the difference. Eighty percent of the team are home-based and are all youths. If they and their coaches can get themselves to this level with no support from anybody, if we get this drive going and successfully get it done, and extend our hands to their coaches, then the sky is our limit. Nigerians are too talented; you don't need to go to the moon to find talents in this country. We are going to the communities because that is where the talents are, you don't find them in the cities; they are all in the rural areas, raw talents."
Atlanta 1996 Olympics has remained Nigerians best ever outing in the global athletics games where she won 7 medals including 2 gold, 1 silver and 3 bronze.
Chioma Ajunwa and the Under 23 (Dream Team) each won gold in Women's Long Jump and football, respectively.
Falilat Ogunkoya, Bisi Afolabi, Fatima Yusuf and Charity Opara won silver in Women's 4×400 metres Relay while Falilat Ogunkoya, Mary Onyali and Duncan Dokiwari won bronze in Women's 400 metres, Women's 200 metres and Boxing, Men's Super Heavyweight, in that order.