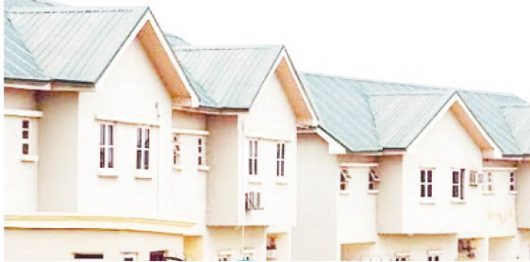 Nigeria and South Africa are Africa's largest economies that differ significantly in terms of basic necessities of life including power supply and housing provision. This is why, for South Africa's over 20,000 mega watts of electricity, Nigeria is struggling with 5,000 megawatts, and for the country's 2-3 million housing deficit, Nigeria has as high as 17 million units.
The federal mortgage bank of Nigeria (FMBN), the country's apex mortgage, recently estimated the deficit at 17-20 million units with potential cost (value) of N6 trillion ($16 billion) and 900,000 annual unit deficit increase.
But analysts argue that whether it is 17 million or 20 million or whatever figure, the deficit as paraded by government and other housing sector stakeholders is no longer tenable, citing population growth and lack of data that captures annual housing deliveries and demolition/ destruction.
Nigeria's population as at 2006, when the last head-count in the country was conducted, stands at 170 million. But World Bank's annual growth rate estimates put Nigeria's at 2.6 percent, meaning that from 2006 to date, the country's population has increased significantly.
"The 17 million units deficit is no longer tenable", the Nigerian building and roads research institute (NBRRI) affirms, quoting findings by Worldometer, 2017, which notes that from 2012 to date, Nigeria's population has increased from 168,240,403 to 191,835,936, showing a significant increase of 23,595,533 people to the population. And that is five years ago.
"The housing deficiency has, therefore, climbed and is likely to worsen in the nearest future if urgent steps are not taken by the government in conjunction with all stakeholders to address the problem", Danladi Matawal, DG/CEO of the institute, said at a forum in Abuja.
The World Bank in 2013 stated that in order for Nigeria to keep up with the demand for housing, 700,000 houses annually are required to match growing population and urban migration but, according to Chudi Ubosi, an estate surveyor and valuer, annual housing delivery is less than 100,000 units.
Erejuwa Gbadebo, CEO, International Real Estate Partnership (IREP), says Nigeria needs dependable data on its housing sector. "One of the biggest problems that we have is lack of data. People still quote 17 million units because there is no other data to prove or disprove it. We talk of homes demolished, burnt or new ones built, but the question is who is taking record of the number of houses that are being built and the ones we are losing?", Gbadebo queried in an interview.
One of the first things the industry should do, she advised, is to start taking stock of what is available—what house-types are there and what they change hands for. "There should be a central system either online or from bodies such as Nigerian institution of estate surveyors and valuers, she said, adding, "there must be a way of capturing this data so that people can have accurate number so that we should not continue to fight a battle we may have won or will never win".
Housing data, which is taken for granted in other economies including South Africa, is still a big issue in Nigeria and that is why foreign direct investment in the housing sector, especially in the residential segment, is still in fits and starts because there is virtually nothing to guide potential investors.
As a part of solutions to the deficit, Matawal canvasses a paradigm shift in approach to providing housing from a conventional process base to more compartmentalised and adaptable strategies.
"Conscious and timely efforts are required to adopt strategies that will significantly reduce the cost of building houses and I recommend the provision of affordable housing by harnessing and integrating alternative building technologies and building materials to reduce the cost of building houses in Nigeria", he said.
Building houses are highly capital intensive projects and a bulk of this capital is gulped up in procuring building materials which alone have been estimated to constitute 60 percent of the construction cost. According to Matawal, besides the cost implications of undertaking high volumes of construction projects, there is also the sustainability issue, hence the need to consider alternative building materials and technologies that would be substitutes or complementary to conventional building materials.
Source:Housingnews