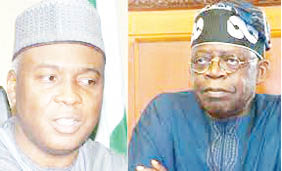 GUEST Columnist By Ololaye Otayemi
The recent statement by Asiwaju Bola Ahmed Tinubu, in which he spoke about the defection of the Senate President, Dr. Bukola Saraki and Gov. Aminu Tambuwal of Sokoto State; and the quick response of Dr. Saraki to some of the claims contained in the release has reignited the constant brickbat between the duo. The supporters of both politicians constantly lock horns over which of the two is considered a better politician and leader.
Readers would recall that even as members of the same political party, the All Progressives Congress (APC), Tinubu's loyalists in Lagos were in the habit of attacking and mocking Senator Saraki, especially during his travails at the Code of Conduct Tribunal (CCT); just as Saraki's associates have also thrown a generous amount of dirt on Tinubu.
While Saraki supporters have always used his emergence as Senate President, against the wishes of Bola Tinubu and other APC leaders, as evidence of his political sagacity, something they believed portrayed him as a better strategist compared to Tinubu. The supporters of former Lagos State governor on the other hand have consistently maintained that Saraki is not and can never be the 'political equal' of Tinubu and that it's even an insult to compare the Jagaban with Saraki.
Be that as it may, I must confess that even though I love Saraki largely because of his obvious good mastery of the political game and his impressive ability to outmaneuver his adversaries; it is however on the basis of developments in the States both politicians lead that I would love to examine their ingenuity and achievements as leaders of their people. It's also on this basis that I want the reader of this piece to determine who among the duo is a better politician.
In terms of corruption perception, overbearing domination of the politics of their respective States and the anti-democratic practice of imposition; Tinubu and Saraki are one and the same. But that is as far as the similarities between the two go. Immediately one considers the abilities of both men to recruit competent individuals into positions and also support them to record commendable achievements; a mark of differentiation begins to set in.
While people point to the number of high political achievers that Tinubu has promoted, Senator Saraki has also within his own right elevated certain individuals to political limelight. But you only need to juxtapose the development in Kwara State to what is obtainable in Lagos to know that it's either Saraki has not supported the best of his followers to serve the people of that State or that no one within his camp actually possesses the competence level of the Tinubu ''boys.'' From Babatunde Fashola to Akinwumi Ambode, Lagos has sustained an impressive record of governmental performance, thanks to Tinubu's excellent nose for good governorship material.
The same cannot be said of post-Saraki Kwara where his successor has so much debased governance that most average guys in that State are now printing posters to run for governor.
For me, the true determinant of a great mind and by extension a good politician and leader is the ability to discover other like-minded individuals that would not just sustain his legacies but also build on it. That is exactly what Tinubu did in Lagos.
For Saraki to therefore command the sort of regard Tinubu has today, he needs to do more than just promoting his personal attributes as a smart political strategist. Kwara is the number one assessment criteria for Saraki as the political leader of that State, and unless he discovers within his own camp someone with the knowledge and brilliance that matches those of the 'Tinubu boys', Kwara in its present form would continue to de-market Saraki in national politics.
In conclusion, it suffices to say that for anyone seeking a valid pointer to the superiority of Tinubu over and above Saraki, a look at how the successors of both men have managed the affairs of their respective states is all that is needed to arrive at a tenable judgement on their capacities as leaders.
While Fashola, and now Ambode, have entrenched Tinubu's name as a capable leader who also knows how to discover people with capacity for impressive performance; it is doubtful if the governor of Kwara State, Alhaji Abdulfatahi Ahmed, has given Saraki the opportunity to lay claim to such a gift.
Otayemi writes from Lagos