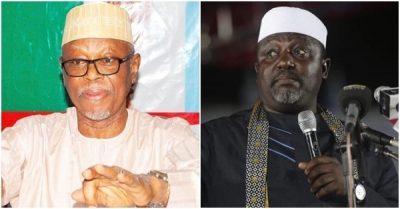 APC members ashamed of Imo Gov – Uwajimogu
By Umar Muhammad Puma
National Chairman of the ruling All Progressives Congress (APC), John Oyegun, has called on Imo state Governor, Rochas Okorocha, to allow the will of the people to prevail, saying "there is a united voice" against him.
Okorocha was said to have a running battle with the stakeholders of the party in the state over his plan to impose his in-law as his successor; a move that was rejected by the party in the state.
For this reason, relationship between the Governor and Oyegun have gone bad, with Okorocha alleging that Oyegun was trying to get back at him as a result of the role he played in ensuring that Oyegun led National Working Committee (NWC) did not get the failed tenure elongation.
But responding during a press conference to officially withdrawn from the National Chairmanship race, Oyegun said Okorocha "was not the strongest force behind the objection to tenure elongation, so why is his case different? I don't think it is necessary to go into the details.
"Well, the processes are still on and it is not good to answer you in details but the answer lies in one fact; that he is not the only one who opposed the so called tenure elongation, how come he is the only one being witch-hunted?
"When you look at the totality of the events in that state, I think you can get a clearer picture of what is going on there. There is a united voice calling for a different way of doing things so to speak," Oyegun said.
Also commenting in a separate press briefing on Saturday, former Secretary to the National Convention Planning Committee, Senator Benjamin Uwajumogu, said "based on facts, 95 percent of the indigenes of Imo state and indeed South-East members of APC are not happy with what is happening in Imo state" under Governor Rochas Okorocha.
According to Uwajumogu, who resigned his appointment as Convention Committee Secretary, said Imo state has become a basket of "fraud."
"South-East indigenes are ashamed that the only state that we have that is governed by APC is been run the way we have seen in the last few years. There was no choice but for me to detach myself from that government. I am happy now that I have resigned, maybe it would be clear that the convention that is slated to elect national officers, I am aware that the governor is supporting and promoting certain South East citizens to run for positions that seem to be zoned to South East.
"So, I am aware that now that I am no longer the Secretary of the convention, no one will accuse me of manipulating the result of that convention", he said.